Molecular and Cellular Biology Research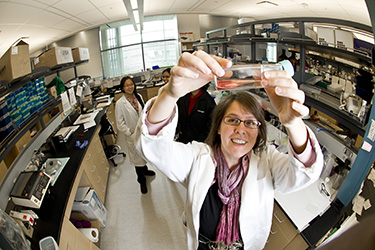 Welcome to the Molecular and Cellular Biology research cluster in the Department of Biological Sciences at Wright State University. Our goal is to expose students to multidisciplinary training opportunities and provide broad exposure to fundamental molecular and cellular processes. Our research laboratories employ a wide range of biological systems including the nematode Caenorhabditis, gray treefrogs, dust mites, human airway epithelia, human keratinocytes, mammalian cell lines, adenovirus, human immunodeficiency virus (HIV), and herpes simplex virus (HSV).  In addition, molecular evolution studies in several of these laboratories focus on organisms ranging from prokaryotes to waterfowl to humans.
Our research laboratories are training grounds for undergraduate students as well as graduate students from the Wright State Master of Science Program in Biological Sciences, the Wright State Biomedical Sciences Ph.D. Program, and the Wright State Environmental Sciences Ph.D. Program. Principal Investigators and their trainees sustain research awards from funding agencies such as the National Institutes of Health and the National Science Foundation, as well as from private companies and research foundations.
Brief descriptions of Molecular and Cellular Biology faculty research interests are listed below. For more thorough descriptions of research and training opportunities, please view the websites of individual faculty members.
Research Interests