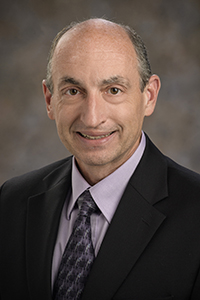 As Dean of the College of Science and Mathematics, Douglas Leaman serves as the chief administrative and academic officer. The Dean is responsible for maintaining and developing excellence in both graduate and undergraduate programs, providing leadership in faculty recruitment, directing strategic planning processes, promoting diversity, and allocation of the budget.
Douglas Leaman became Dean of the College of Science and Mathematics at Wright State University October 1, 2016. He was chair of the Department of Biological Sciences at the University of Toledo. Leaman is an innate immunologist, specializing in biochemical and physiological aspects of host-virus interactions. He continues to run a successful research laboratory, which gives him insight into current trends in the life and physical sciences and an advantage in an administrative position that requires appropriate allocation of resources and teaching loads.
History
Leaman obtained his bachelor's and master's degrees from The Ohio State University, majoring in molecular growth and development/animal science. He earned his Ph.D. in molecular biology/reproductive physiology from the University of Missouri.
Before arriving at the University of Toledo, Leaman worked at the Cleveland Clinic Taussig Cancer Center.
The Office of the Dean is located in 134 Oelman Hall, phone 937-775-2611.