Biological Sciences Minor
On this page: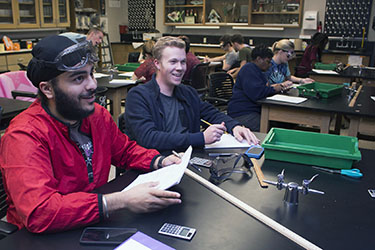 Why Choose the Biological Sciences Program?
Students majoring in another department may earn a Minor in Biological Sciences. The Minor program includes at least of 24 credit hours from a broad selection of courses in Biological Sciences.
The flexibility of the Minor program is intended to accommodate the needs and goals of a variety of students, including people with science majors as well as those from business, liberal arts, and other disciplines. It provides a solid foundation in biological principles and still enables students to focus on particular subdisciplines, such as molecular, organismic, or environmental biology.
Careers
Our graduates are employed by
Abbott Laboratories
Advanced Testing Laboratory
Aerotek
AFRL/ WPAFB
American Health Associates
Battelle Memorial Institute   
Charles River Laboratories
Community Tissue Services/ Community Blood Center
Franklin Park Conservatory and Botanical Gardens  
Great Lakes Bioenergy Research Center (GLBRC)
Medpace
MedVet
MillerCoors
Ohio Department of Developmental Disabilities
Ohio Department of Natural Resources        
Pfizer
Proctor & Gamble
Shaw Environmental
SpringCreek Fertility
UES Inc.
United Allergy Services
Our graduates work as
Biologists/Cell biologists
Cardiopulmonary technician
Clinical allergy specialist
Clinical research associate
Conservation worker
Data scientist
Ecology lab technician
Embryologist/andrologist
Formulation technician
Genetic counselor
Health services manager
Laboratory manager
Microbiology technician
Pharmaceutical/medical product sales representative
Researchers/research aAssistants
Toxicologist
Academics and Curriculum
View Biological Sciences Minor program requirements in the Academic Catalog.
Admission
Minimum Entry Requirements
24 semester hours earned
2.0 grade point average in the introductory biology courses (BIO 1120 and BIO 1150)