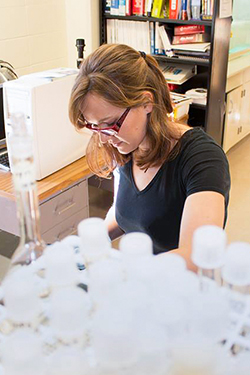 Graduate assistantship and fellowship support is available to full-time students on a competitive basis. Students awarded financial support are eligible for stipends and remission of tuition and fees. Students currently receive a stipend of $22,660 per 12 month period. Funding comes from a combination of program fellowship support, graduate teaching assistantships, and grant support from your faculty advisor. A student with financial assistance must register as a full-time student each semester (at least 12 credit hours of Environmental Science and related courses).
U.S. Environmental Protection Agency (EPA) Internships
The U.S. Environmental Protection Agency's water research division in Cincinnati frequently hosts student interns whose research interests overlap those of the division's objectives. Wright State Ph.D. students and Ph.D. program faculty who are interested in exploring internship opportunities in collaboration with the EPA in Cincinnati should contact Dr. Steve Higgins at (937) 775-2479 or steven.higgins@wright.edu.
The Yellow Springs Instruments (YSI) Environmental Ph.D. Fellowship
Yellow Springs Instuments, a leading company in the manufacture of environmental monitoring equipment, has endowed a fellowship that will be awarded to students who have demonstrated exemplary performance in the Environmental Sciences Ph.D. program. Awards will be made once per year. For more information visit the Yellow Springs Instuments website.
YSI Fellowship Award Recipients:
Daniel Marsh, 2012–13
Katlin Bowman, 2012–13
Jacquelyn Bracco, 2012–13
Kyle Danielson, 2011–12
Samantha Davis, 2010–11
Phil Lavretsky, 2009–10
Thomas Kannanayakal, 2005–06