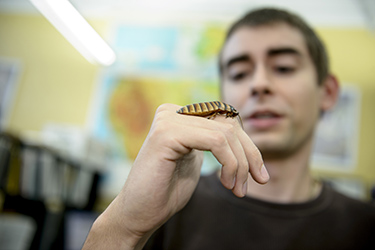 On this page:
Documents
Forms
Frequently Asked Questions
How do I locate faculty in the program with similar research interests to my own?

How do I check on the status of my application to the Ph.D. program?

Is the financial statement in my application required for international students?

If the applicant is being sponsored, the financial statement form must be accompanied by an affidavit of support and a bank statement provided by the sponsor, indicating the amount of money available to the applicant for the purpose of studying at Wright State University. If the applicant has been offered a graduate assistantship or fellowship, the department must submit a letter indicating the conditions of the offer and the dollar amount the student will receive in addition to tuition remission. More information on international graduate admissions can be found on the University Center for International Education website.

What are the specific entry requirements for the Ph.D. program?

Entry requirements for the Environmental Sciences Ph.D. program can be found on our Admission webpage.

When is the application deadline for the Ph.D. program?

Applications to the Environmental Sciences Ph.D. program will be reviewed by the admissions committee beginning February 1 and all applications will be considered for Fall Semester admission (unless otherwise noted) until all slots are filled. 
Related Websites