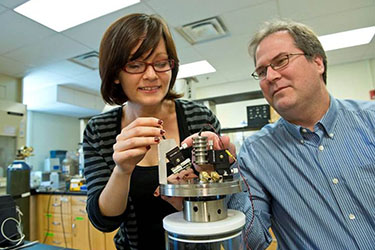 Undergraduate research allows you the opportunity to share in the excitement of exploratory research, to hone experimental skills, use state-of-the-art instrumentation, utilize the chemical literature, and last, but not least, learn how to approach problem solving. In short, participation in a research project can be one of the most valuable experiences in your undergraduate career. No other course ties together so many diverse aspects of chemistry.
Visit the department's Research Areas and Faculty webpage to learn about the research interests of various chemistry department faculty members. You will immediately see how wide-ranging those interests are. Do not worry if you are not familiar with some of the areas described. If a project or area sounds interesting, talk about it with the appropriate professor—invariably, faculty members love to discuss their research.
We urge you to consider research participation relatively early in your undergraduate career (e.g., junior year). If a project is proceeding well, you will then have time to obtain some concrete results. This is in the best interests of both yourself and the faculty member. In some instances, completed work will be published in a research journal. It is quite a feather in your cap to have a published research paper while you are an undergraduate.
Be aware that research is not normally something one can walk into and obtain useful results straightaway. It is usual for you to take a semester to become comfortable with the techniques involved and, accordingly, you should endeavor to devote at least two or more semesters to research participation. Similarly, it is usual to sign up for 2–3 credits of CHM 4990 (approx. 8-11 actual hours of work per week). In general, this time should be available in blocks of at least 4 hours rather than a large number of small time slots.
These are general guidelines which, over the years, we have found to maximize the utility of the research experience—but the main criterion is your interest. Read over the research outlines presented by the links carefully and please give serious thought to participation. You will not regret it.