Bachelor of Science in Chemistry, Chemistry Education Concentration
On this page:
Why Choose the Chemistry Program?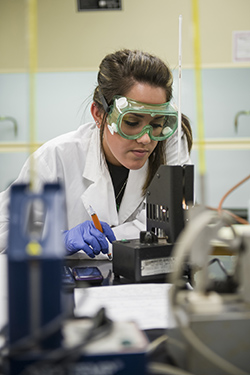 The Bachelor of Science curriculum in Chemistry approaches students' educational endeavors with a broad, integrated, and in-depth view. Departmental requirements, combined with university core requirements and electives, offer a balanced course load for students. This provides undergraduates with the opportunity to explore where their interests in the science field will lead them.
Students who wish to teach chemistry in Ohio public high schools can pursue a Bachelor of Science degree in chemistry. Upon completion of this undergraduate degree program in the College of Science and Mathematics, students then need to complete the Professional Educators Program (PEP) Master of Education degree (M.Ed.) through Wright State's College of Health, Education, and Human Services. Graduates of the B.S. in chemistry and the M.Ed. Professional Educators Program are then eligible to seek licensure from the Ohio Department of Education in chemistry or chemistry in combination with another science field depending on the content of the undergraduate curriculum.
Academics and Curriculum
The Adolescence to Young Adult Chemistry Licensure Program is based on an undergraduate Bachelor of Science degree in Chemistry.
View Bachelor of Science in Chemistry program information, degree requirements, and graduation planning strategy in the Academic Catalog.
Admission
Students must apply for admission to Wright State University.
Declaring your Major
To apply for admission in the College of Science and Mathematics, students must fill out a "Change of Major" form and declare their area of emphasis (this can be done online through WINGS Express).
Articulation (Transfer) Agreements
Wright State has articulation agreements with a number of institutions. Articulation agreements will assure you a seamless transfer from one institution to another. To view current articulation agreements and determine which courses will transfer, visit the Articulation Agreements page or www.transfer.org.