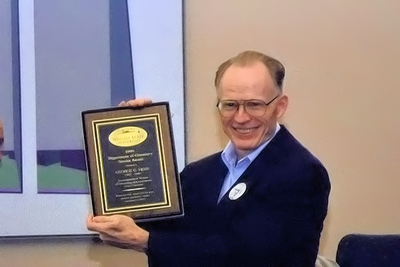 Dr. George Hess passed away Friday September 4, 2015. He is survived by wife, Sylvia, daughter Heidi (Chris Rice), son Jon (Minh Hess), and grandchildren Nathan and Nicole Hess and Sophie Rice.
Dr. Hess retired in 1999 after 34 years of exceptional service to Wright State University. He did his undergraduate at Juniata College in Pennsylvania, and went on to Pennsylvania State University, where he obtained his Ph.D. in 1964.
Dr. Hess came to Wright State in 1965 and was one of the earliest members of the Chemistry Department. Known for his patience, caring attitude and devotion to teaching, he won several Outstanding Teaching awards over the years, and served as Chairman of the Chemistry Department from 1984-1988. His research in environmental and organic chemistry attracted a large number of students. Dr. Hess was a fine mentor to a number of the M.S. Chemistry graduates.
Remembrance from Dr. Audrey McGowin:
I remember my meeting with George when I interviewed at Wright State in January 1994.  He told me that research was important but the chemistry department valued good teaching.  It is one of the main reasons I decided to accept the offer of an Assistant Professorship from WSU in 1994.  George always put students first.  He was a patient mentor and teacher.  We collaborated on an NSF grant and shared maintenance duties on the GS/MS that was purchased with funds from the grant.  George was also kind and a student of history.  He could tell you about former students and faculty members because he got to know them.  We even had a marriage between one of his Master's students (Christy Wendel) one of my Master's students (David Shepherd).  They are still happily married and have a beautiful daughter.
If you wish to send a card to his family and his wife Sylvia the address is: 1138 Dorchester Road, Xenia, OH 45385. A celebration of his life will be held later this month.