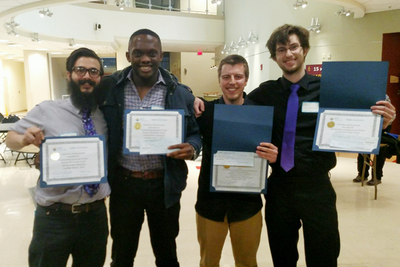 Chemistry Graduate Students, Brady Hall and James Ohaeri, and Undergraduates Nick Yahna and James Herbort received certificates and monetary awards.
Every spring the Dayton Local Section of the American Chemical Society (ACS) invites chemists at all levels - whether they are practicing professional chemists, graduate students or undergraduate students from five local four year colleges that offer a chemistry degree to present, as posters, their current research to the community of chemists in the area. This year the program was held at Central State University.
Brady Hall presented "Synthesis, Characterization, and Polymerization of Sulfonamide Based Bifunctional Monomers," with Co-authors Jessica Munch, Luke Meyer, and advisor Dr. Eric Fossum.
James Ohaeri presented "Polymerization of PEEK AA+BB monomers containing meta-substituted oxyalkylene linkages," with advisor Dr. William A. Feld.
James Herbort presented "Dioxyalkylene PEEK polymers containing vanillin subunits," with advisor Dr. William A. Feld.
Also, each year, the Patterson College Chemistry Award is presented by the Dayton local section of the ACS to outstanding chemistry majors in each of the eligible colleges in their junior years. This year's Wright State University awardee was Nick Yahna.