Applying Scientific Knowledge (ASK) Program

On this page:
Overview
Fast Facts
The Applying Scientific Knowledge (ASK) Program is an experiential learning program in the College of Science and Mathematics that provides a pathway into research opportunities for early undergraduate students on the Wright State University campus.
ASK Program participants will directly participate in the cutting-edge research with COSM faculty at Wright State University, and experience how their coursework translates into the world of scientific research by immersion into research experiences.
Participants get to explore a specific area of science of interest guided by our COSM research faculty in ways not possible in the classroom setting.
Participant projects contribute to larger, ongoing faculty research projects within the College of Science and Mathematics, and their work can be published in academic journals, as well as presented at local or national conferences. 
ASK students prepare for the next step in their career path by building their CV to apply for an internship or job opportunity, or creating stronger graduate school or professional school applications and gain critical thinking and problem-solving skills
How the ASK Program is Different from Other Experiential Learning on Campus
Get started early!
Unlike many other undergraduate research opportunities on campus, students may start the ASK program as soon as they are accepted into their COSM major. 
 
Exposure to multiple faculty members
Students will be team-taught during their first term in the program, allowing them to have direct contact with a variety of faculty from multiple departments of the College of Science and Mathematics.  Once they start their research projects, they may be mentored by a team of COSM faculty members rather than a single faculty as well.
 
Earn credits toward your degree
Students will earn a minimum of 9 credit hours of course credit through the ASK program which may count toward their degree program.
 
Fellowship opportunities
Summer fellowship opportunities are available to ASK Program students to continue their research over summer term, providing support for the student as well as additional research supplies.
 
Launching pad into other experiential learning opportunities
The ASK Program will provide vital experience in undergraduate research, opening doors into other opportunities both on and off campus.
Prerequisites
The ASK Program is open to all students within the College of Science and Mathematics. Students must either be accepted, or qualify to be accepted into their major within COSM by the beginning of fall term when they start the program. 
How it Works
The ASK Program provides a unique experience to students in that it allows students to have direct contact with research faculty within the College of Science and Mathematics early in their academic career that is otherwise impossible during their regular coursework. 
This program provides students to gain not just basic content knowledge of a topic, but in-depth, cutting-edge knowledge and experience on a specific topic of interest to them through significant interaction with research faculty within the College of Science and Mathematics.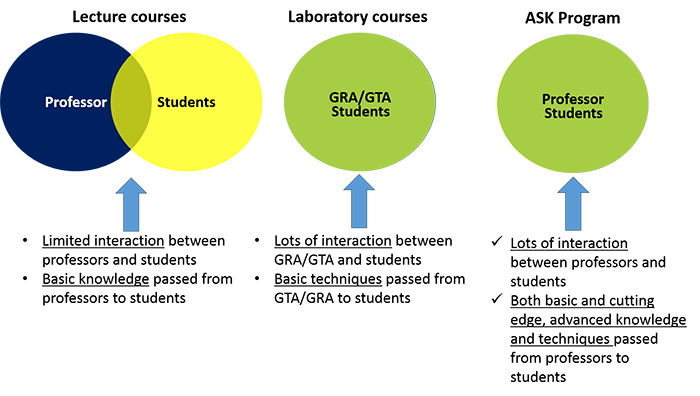 Term 1 (Fall): SM2100, research-focused course to prepare for your research experience 
Term 2 (Spring): research project in small teams guided by COSM research faculty (View examples of ASK Program projects.)       
Summer term: optional for ASK Program students, may take the time to seek other opportunities on and off campus, may apply for ASK Program Summer Fellowship opportunities which provide stipend support for the student over summer term as well as extra money for supplies toward their research project, may also continue their research projects by signing up for course credit over summer term
Term 3 (Fall): finish research project with your team and explore further research opportunities on or off campus, including departmental research, departmental honors programs, or internships
ASK Program Progression

| Course | Description | Term |
| --- | --- | --- |
| SM2100: Interdisciplinary Scientific Inquiry | Learn to execute, analyze and communicate science in an active learning course | Fall 2016 |
| Team Research Course Semester 1 | Course-based team research experience led by Wright State science and math faculty | Spring 2017 |
| Optional Summer Research | Optional summer research experience with volunteer and fellowship options | Summer 2017 |
| Team Research Course Semester 2 | Continuation of spring 2017 course-based research experience | Fall 2017 |
At the conclusion of their ASK Program experience, students will be guided into other research opportunities both on and off campus. This may include independent research opportunities within departments of the College of Science and Mathematics, departmental honors programs, or internship opportunities off campus with local businesses or the Air Force Research Laboratories.
---
Fellowships
The ASK Program is pleased to provide fellowship support for students over the summer term to assist students in the continuation of their projects.  ASK Program Fellowships provide a stipend for students over 12 weeks of the summer term, as well as $500 in money toward additional supplies for their projects. 
To apply, please fill out the application form, including a description of your goals for your project over summer term, and a budget describing the specific use of the $500 money toward supplies.
---
Apply
Applications will be reviewed on an ongoing basis by the ASK Selection Committee and applicants will be notified with the decision via email.
---
Meet the Director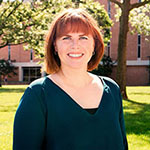 I am a Wright State College of Science and Mathematics alumni with a B.S. in Biological Sciences and a M.S. in Microbiology and Immunology.  During my bachelor's degree, I initially intended to pursue medical school.  Upon realizing that patient-care was not the right fit for me, I had the opportunity to become involved in undergraduate research. My experience in undergraduate research was the turning point in focusing my career goals.   I completed a Master's degree in Microbiology and Immunology in 2003, and began a career in research as a research assistant. 
I now have the opportunity as a faculty member to help other students gain access to the same experiences that I had.  Undergraduate research gave me a different perspective on science, something that cannot be experienced in the classroom setting.  It is my pleasure to serve as Director of the ASK Program and have this chance to work with the undergraduate students of the College of Science and Mathematics, helping them to also have the opportunity to experience science first hand, gaining vital skills toward accomplishing their own career goals and moving on to their next step.
Have questions about the ASK Program? Email the director.