On this page:
Why Undergraduate Research and Experiential Learning
Learn By Doing
The best way to learn about science is to do science. Scientific knowledge is gained through research. Before papers are published and textbooks are written, studies need to be designed, data needs to collected, and results need to be analyzed and interpreted. These activities, the backbone of science, are best learned through hands-on learning in a lab. Science is best understood when you know how science is conducted.
Explore Research
Is a research career for you? Do you like designing experiments?  Do you like analyzing data? Are you good at finding and testing alternative explanations for your results? How would you know until you try?
Gain Valuable Work Experience 
Working in a lab setting provides a pathway for you during your first years at Wright State to do undergraduate research—a preparation for any career that involves critical thinking, problem solving, organization, perseverance, writing and oral communication skills, and creativity. 
Undergraduate Research Positions on Campus 
Selecting and applying for a research position is like any other type of job search process. It will require some preparation and time. 
Determine your research interest and search the CoSM Department webpages to review the faculty research profiles.   
Look up faculty on Google Scholar to review recent publications.  
If you have an academic advisor for your major, meet with them to discuss options. 
When you identify a faculty member that you are interested in, contact them directly. 
If you need assistance, contact your department to find out the undergraduate research point of contact. 
Register
Once you get involved in undergraduate research or an experiential learning opportunity such as an internship, register as a CoSM UREL participant.
Benefits of Registering
Learn about funding opportunities to support your UREL experience such as travel support for conferences.
Access important and required safety training resources.
Learn what you can expect from your UREL experience and mentors.
Find resources that will help you perform library research, prepare written and oral presentations, do data analysis and more!
Contact for Experiential Learning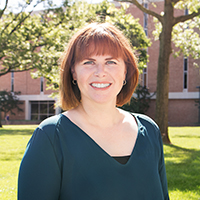 Meredith Rodgers, M.S., is the contact for CoSM students interested in research and experiential learning. She will facilitate your access to a multitude of research opportunities across the college. She can also assist in matching you with research opportunities within and outside of CoSM where you will be exposed to high-quality research.
Meredith Rodgers earned her B.S. in biological sciences from Wright State in 2001 and then an M.S. in microbiology and immunology from Wright State in 2003. She is a senior lecturer in Biological Sciences, where she teaches M&I 2200 (Microbiology of the Human Environment) and BIO 3100/3110 (Clinical Microbiology). She is also chair of the departmental honors program in biological sciences, and the director for the Applied Scientific Knowledge (ASK) program.
Email Meredith Rodgers to learn more: meredith.rodgers@wright.edu
Research Positions 
Undergraduate research positions may be: 
Volunteer: Volunteering is a great way to begin your involvement in research. Volunteering is best if you are just starting research. 
Course Credit: Many departments offer academic credit as a result of work completed with a faculty mentor. Check with your advisor or your department. 
Paid: Financial compensation for research may be available, and often require a large time commitment (10-20 hours/week, more in the summer). These positions are usually funded via faculty grants from external organizations such as the National Science Foundation, the National Institutes for Health, the Department of Defense, etc.  
Options for internships are similar in that they can either be volunteer, for course credit, paid, or both. 
Information for Faculty
Register for the CoSM UREL Faculty Network and gain access to resources for supporting undergraduate research including topics such as mentoring, funding, training, etc.