On this page: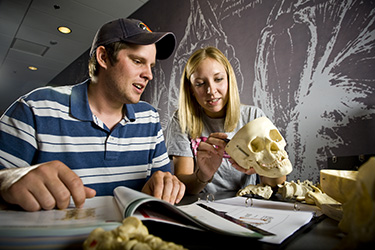 Why Choose the Anatomy Program?
You can earn graduate-level education in three of the four human anatomy core courses—microanatomy, gross anatomy, embryology, and neurobiology—in Wright State's anatomy certificate program. These courses cover basic cell biology and the microscopic survey of human tissues, dissection of the human body, development of the human body and structure and function of the human nervous system. The intensive coursework requires a full-time commitment.
Objective
To provide the essentials of human anatomy if you have an interest in anatomy but do not want to pursue, or do not need, a master's degree.
Careers
This program is especially applicable to you if you are a nurse, physical therapist, occupational therapist, physician assistant, athletic trainer, health and physical education major or working in other allied health disciplines.
Academics and Curriculum
View the Certificate in Anatomy program information and requirements in the Academic Catalog.
Admission
Applicants for admission are expected to meet the general requirements for admission to the Graduate School with regular or nondegree status. Although there are no required prerequisite courses, it is recommended that you have completed at least two years of biology, including vertebrate anatomy, and two years of chemistry, including organic chemistry.
For additional information please call Kim Hagler, program secretary, at 937-775-4496 in the NCBP graduate program office located in 105 White Hall.