Bachelor of Science in Neuroscience

On this page:
Why Choose the Neuroscience Program?
The Bachelor of Science in Neuroscience was developed by an interdisciplinary team of Wright State University faculty, and emphasizes how physics, biology, chemistry, psychology, and mathematics are integrated to become the field of neuroscience. Courses are designed so that the majority of the time, you are doing rather than listening. The program's coursework focuses on the cell biology and physiology of neurons and neuronal circuits. It includes training in research techniques, and opportunities to assist faculty with their research. You will be competitively prepared for health-related preprofessional programs, scientific research, and other career paths. 
Program Learning Goals and Skills
The Bachelor of Science in Neuroscience program is focused on in-depth neuroscience content knowledge centered around four main learning goals: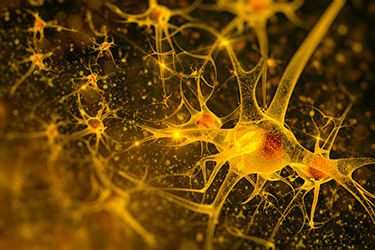 Organization—There is an expansive, yet repetitive, organization to the nervous system, that matches structure with function.
Cellular Neurophysiology—Neurons are cells with dynamic and excitable membranes. Specialized receptors and channels underlie all chemical and electrical signals in the nervous system.
Information Processing—The effectiveness of communication between neurons is highly modifiable and is critical for regulating the flow of information within neural networks. Information is also encoded in the timing of signals.
Neural Networks and Behavior—The average adult brain contains approximately 100 billion neurons with 100 trillion connections, that make a multitude of connections with each other in an organized fashion. This connectivity serves as the link between structure and function, dictating our behavioral responses to various innocuous and traumatic stimuli.
In addition to the content knowledge described above, neuroscience majors will develop an array of broadly applicable skills, including: 
Independent learning 
Ability to critically evaluate evidence (how to read critically, write scientifically, and how to conduct scholarly searches) 
Proficiency in a variety of laboratory research techniques (ex. microscopy) 
Ability to work collaboratively with colleagues/peers 
Effective communication (oral and written) 
Quantitative literacy 
Ability to implement the scientific process 
Ability to problem solve 
Research design competency (ability to apply logic and statistics) 
Careers
Most students majoring in neuroscience programs are interested in pursuing health-related careers. However, there are a number of other career fields you can pursue with an undergraduate neuroscience degree, including research, sales, law, public policy, and others. 
You may need to pursue advanced graduate or professional education to achieve your career goals. The Bachelor of Science in Neuroscience program has been designed to meet entrance requirements for these advanced programs, aiding in achieving your future plans.
Throughout the progress of the degree program, you will be given the tools and appropriate advisement to succeed along whatever trajectory your path will take. 
Occupations
Advertising/marketing 
Audiologist 
Biostatistician  
Clinical research assistant 
Dentist 
Epidemiology 
Food scientist 
Genetic counselor 
Lawyer 
Medical doctor 
Medical manager 
Occupational therapist 
Optometrist 
Pharmaceutical sales 
Pharmacist 
Physical therapist 
Physician's assistant 
Professor 
Psychologist 
Public health 
Research scientist 
Science advocacy 
Science writer 
Speech/language pathologist 
Veterinarian 
Useful Links
Real-World Experience: Undergraduate Research

You will have the opportunity to collaborate with faculty and their lab members by conducting Independent Research in Neuroscience (NEU 4990). This can be taken as an elective option, or as part of the requirement for the laboratory research-focused senior capstone. 
Neuroscience Departmental Honors Program PDF
A list of faculty, their contact information, and their research interests can be found on the People: Faculty, Staff, & Students page of the departmental website. You are encouraged to read over these and meet with faculty to discuss available research opportunities. If you wish to register for Independent Research in Neuroscience, you must obtain departmental permission. 
The ASK program, Applying Scientific Knowledge, provides a new way for science majors to engage in undergraduate research as part of their coursework. For more information see the ASK Program website.
View an extensive and updated list of neuroscience internship and summer research opportunities.
Academics and Curriculum
View Bachelor of Science in Neuroscience program information, degree requirements, and graduation planning strategy in the Academic Catalog.
Advising
Schedule an appointment with an advisor by calling 937- 775-4496. We look forward to helping you meet your goals! 
Undergraduate Adviser:
Patrick Sonner, Ph.D.
Director of the Undergraduate Neuroscience Program
patrick.sonner@wright.edu
Admission
Direct Admits 
You are eligible to be directly admitted into the Bachelor of Science in Neuroscience program from high school by meeting the following criteria:
Have a high school grade point average > 3.00 
ACT Math score > 22 or SAT Math score > 520 
You must first apply for admission to Wright State University, and indicate neuroscience as your desired major.
PRE Major
If you intend to enter into the Neuroscience Bachelor of Science degree program, but do not meet the criteria to be directly admitted from high school, will be admitted as a pre-major. Once you have satisfied the following criteria, you can be admitted into the Neuroscience Bachelor of Science degree program:
Earned a grade of "C" or higher in the following courses: BIO 1120, BIO 1120L, CHM 1210, and CHM 1210L. 
Completion of at least 15 semester hours with a minimum cumulative GPA of 2.8. 
Current students at Wright State University interested in adding or changing their major can also be admitted into the Neuroscience Bachelor of Science degree program by meeting the above criteria.
Transfer Students
Students interested in pursuing the Bachelor of Science degree in Neuroscience can be admitted into the program by meeting the same criteria as non-direct admit students: 
Earned a grade of "C" or higher in the following courses:, BIO 1120, BIO 1120L, CHM 1210, and CHM 1210L or their equivalents 
Completion of at least 15 semester hours with a minimum cumulative GPA of 2.8.