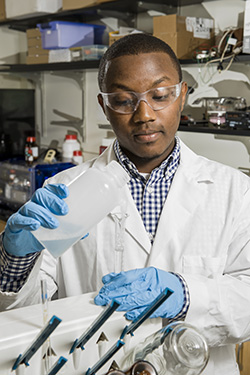 Resources are organized to help you at the beginning, middle, and end of your Undergraduate Research and Experiential Learning (UREL) journey. 
On this page:
Before You Start
Before you begin searching for a research position or internship, talk with your academic advisor to determine the best time to plan for your project. Below are a few questions to consider: 
When can you afford to take time away from your coursework to conduct research?
What areas of research interest you? What subjects or classes have excited you?
How will this help when applying to graduate or professional school?
---
Undergraduate Research Positions on Campus
Selecting and applying for a research position is like any other type of job search process. It will require some preparation and time. 
Determine your research interest and search the CoSM Department webpages to review the faculty research profiles.  
Look up faculty on Google Scholar to review recent publications. 
When you identify a faculty member that you are interested in, contact them directly.
If you need assistance, contact your department to find out the undergraduate research point of contact.
Schedule a meeting to discuss your research interests and ask questions.
If you have an academic advisor for your major, meet with them to discuss options.
Are there certain courses that you should take first?
Is there academic course credit for internships in your department?
---
Off-Campus Internship or Research Positions
Career Services at Wright State University is the primary source for learning about posted/current/available internship opportunities. 
Undergraduate research positions may be:
Volunteer: Volunteering is a great way to begin your involvement in research. Volunteering is best if you are just starting research.
Course Credit: Many departments offer academic credit as a result of work completed with a faculty mentor. Check with your advisor or your department.
Paid: Financial compensation for research may be available, and often require a large time commitment (10-20 hours/week, more in the summer). These positions are usually funded via faculty grants from external organizations such as the National Science Foundation, the National Institutes for Health, the Department of Defense, etc. 
Options for internships are similar in that they can either be volunteer, for course credit, paid, or both.
---
Working in Research (Lab Groups, Professionalism, Ethics, Intellectual Property, etc.)
Research Ethics and Integrity
The Responsible Conduct of Research (RCR) is the appropriate and ethical practice of research, scholarship or creative activity. Most federally funded research programs require students  to be properly trained in RCR policies and best practices. Your research faculty mentor may require you to complete several training modules in various RCR topics.
Intellectual Property and Technology Transfer
The webGURU Guide for Undergraduate Research has an excellent explanation of  "Intellectual Property" and includes information about patents, trademarks, tech transfer and more!
---
Research Safety
Safety training is provided by Wright State University Environmental Health and Safety (EHS). Ask your faculty mentor which training/safety module(s) that you will need to complete.The number and type of training modules needed will vary with the scientific discipline and nature of the work. For off-campus experiences, ask your mentor/supervisor there about what safety training is required.
Visit the Environmental Health and Safety website to register to start the safety training process.  Some modules can be completed online while others are completed in a class. It is critical that you start the training process immediately upon starting a research experience.
The webGURU Guide for Undergraduate Research has an excellent discussion of lab and research safety issues.
---
Academic Literature
You will need to develop the ability to conduct a comprehensive and thorough literature search to identify reliable and quality sources. Your research mentors will help you learn what the reliable source materials are in your research field. 
---
Laboratory/Research Notebook
Your mentors/advisors/supervisors may require you to keep a laboratory notebook that chronicles your work efforts. WebGURU explains it best..."A lab notebook is a real time record of what was done at what specific point in time on a project for the individuals and/or organizations that may have funded the research, for your advisor and you to facilitate your efforts in publishing and/or patenting your work."
The directions of your mentor/advisor and the actual research that you are doing will largely determine what needs to be recorded on a regular basis in your notebook. 
---
Data Analysis and Other Needed Skills
Here are some other resources related to research specific skills that you might find useful...
---
Presenting Your Research Results and Experience
Present and sharing research findings can take many forms including: presentations at local/regional/national meetings, reports to sponsors, publications in scientific literature, and outreach events such as speaking at a local school or museum. Undergraduate research projects should include the opportunity for you to develop your writing and presentation skills and give you the opportunity to present or publish your results.
Opportunities to present your work at Wright State University
Wright State University hosts an annual "Celebration of Research, Scholarship and Creative Activities " where undergraduate students register to present their work in poster sessions and oral talks.This day-long event provides learning opportunities to help you with career advancement, research, networking, etc.
You can visit Wright State Library's CoreScholar (Campus Online Repository) to look at the program from 2016 Research Celebrations...
There are other opportunities for you to present your research results at scientific regional meetings that encourage undergraduate student researchers to participate. Ask your faculty mentor/advisor about these meetings like the few listed below:
You may have the opportunity to be a co-author on a scientific publication that is submitted to a discipline-specific journal. There are a variety of undergraduate research journals available for you to publish your work in!
---
Applying for Graduate School and Fellowships
---
Resumes and CV's
Additional helpful career resources