Bachelor of Science in Biochemistry and Molecular Biology
On this page:
Why Choose the Biochemistry and Molecular Biology Program?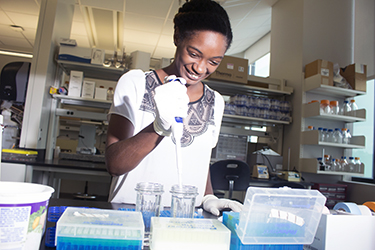 The Bachelor of Science degree from the Department of Biochemistry and Molecular Biology focuses on preparing students for careers in fields including, but not limited to, medicine and health, drug manufacturing and design, agriculture, forensic science (crime lab science), academic/industrial research and development, and scientific writing.
The teaching and research programs of the department are conducted in modern, well-equipped classrooms and laboratories. Our curriculum fosters the development of active learning, teamwork, critical thinking, scientific reasoning and communication skills, as well as, relevant content knowledge in both biochemistry and molecular biology. Within the curriculum there are many opportunities for students to be associated with cutting-edge research through independent studies and undergraduate research projects.
For a list of where our recent graduates are employed at, as well as to see the average salaries of Biochemistry degree holders, visit the Careers page.
Academics and Curriculum
View Bachelor of Science in Biochemistry and Molecular Biology detailed program information and degree requirements in the Academic Catalog.
Program of Study
Detailed Program of Study can be seen on the Bachelor of Science in Biochemistry and Molecular Biology Academic Catalog page. Examples of BMB courses the Department offers include:
BMB 2100 - Introduction to Biochemistry
BMB 2000 - Career Planning in BMB
BMB 3850 - Biochemistry Laboratory
BMB 3900 - Scientific Communications
BMB 4210/4230 - Biochemistry and Molecular Biology I/II
A variety of elective courses examining, among other topics, molecular basis of cancer, RNA structure, and human microbiome.
Undergraduate Research
Students have the opportunity to collaborate with faculty and their lab members by conducting Independent Research in Biochemistry (BMB4990) or Honors Research in Biochemistry (BMB4950). A list of faculty, their contact information, and their research interests can be found on this page. Students are encouraged to review these to identify their interest and then meet with faculty to discuss potential undergraduate research opportunities.
Advising and Mentoring
For general advising questions please contact the College of Math and Science Advising Office (https://science-math.wright.edu/advising-and-resources/academic-advising)
For questions pertaining to the BMB program or for a departmental tour contact Dr. Chad Campbell, PhD. who serves as the BMB Undergraduate Program director and student mentor. Schedule an appointment by contacting him at chad.campbell@wright.edu
Admission
Students must apply for admission to Wright State University.
Direct Admission Requirements
Requirements for direct admission into the BMB Bachelor of Science degree program will require a minimum high school GPA of 3.0, a math score minimum of 22 on the ACT or 520 on the SAT. In addition, students must have completed the Ohio Core Curriculum, or equivalent core curriculum from other states.