Center for Genomics Research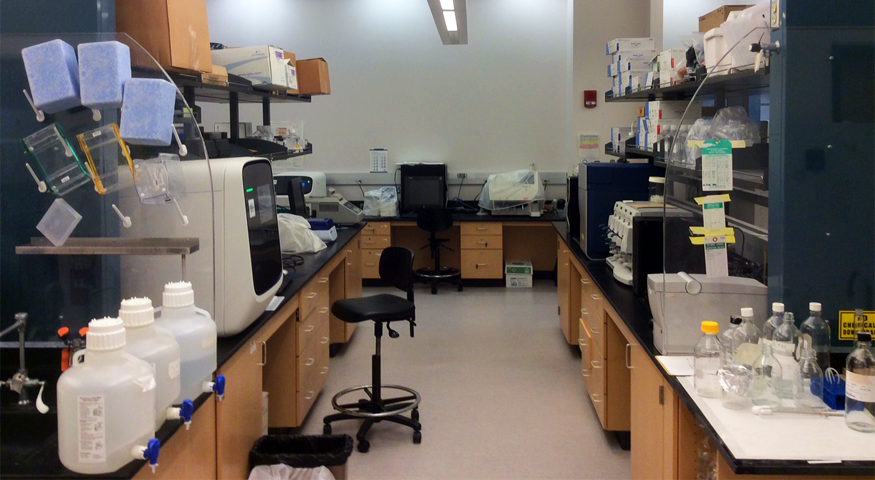 On this page:
Overview
The Center for Genomics Research (CGR) is a core research facility of the Boonshoft School of Medicine and the College of Science and Mathematics at Wright State University. CGR's primary mission is to provide support and core facilities for Wright State research faculty engaged in basic and clinical research in the areas of gene expression, flow cytometry and genotyping. The center strives to cultivate collaborations between basic and clinical researchers at Wright State through training of personnel, collaborative projects undertaken at CGR and joint grant submissions involving researchers and CGR members.
Center membership is open to all Wright State-affiliated faculty. CGR charges investigator grants for use of certain equipment to offset the costs for contracts, reagents and staff time required for equipment maintenance. For groups not associated with WSU, the center works on genomic research projects on a fee-for-service basis. For more information about CGR membership and services, contact Dr. Michael Markey (phone: (937) 775-4536; email: michael.markey@wright.edu.)
---
Collaborate with CGR
What can CGR do for my project?
CGR has collaborated on projects at Wright State and external to the university.  CGR can help in the design of experiments, provide expertise and "hands" for performing experiments, perform data analysis and interpretation, and utilize facilities for quantitative PCR, flow cytometry, microarrays, and next generation sequencing.  Study topics may include:
Gene expression
Chromosomal copy number changes
Single nucleotide polymorphism genotyping
Exon and splice junction usage
DNA next generation sequencing

Structural variants

Point mutations

Copy number variation

Exome sequencing

Targeted sequencing

Whole genome sequencing
RNA sequencing (RNA-seq)

Gene expression

Gene fusion

Splice variants

Transcriptome sequencing

Targeted RNA-seq

Chromatin immunoprecipitation sequencing (ChIP-seq)

Methylation sequencing (Methyl-seq)
Flow cytometry

Cell cycle analysis

Surface marker expression

Other methods in genomics
When should I contact CGR?
CGR can be most effective if involved from the beginning of a project.  CGR can consult during the grant writing process and provide letters of support.  It is preferred that CGR be written into grant-funded research as a collaborator.  For questions or begin the process, contact Michael Markey at (937) 775-4536.
---
Staff
Department:
Biochemistry/Molecular Biology-SOM
Title:
Research Associate Professor, Biochemistry & Molecular Biology; Director, Center for Genomics Research
Address:
Diggs Laboratory 048, 3640 Colonel Glenn Hwy., Dayton, OH 45435-0001
Department:
Biochemistry/Molecular Biology-SOM
Title:
Chair and Professor, Biochemistry & Molecular Biology; Assistant Dean for Research Affairs, BSOM
Address:
Diggs Laboratory 122, 3640 Colonel Glenn Hwy., Dayton, OH 45435-0001
---
Core Resources
Resource
Applications
ABI 2700 thermocycler
PCR and other thermocycling
ABI 7900 HT SDS with PCR clean room
TaqMan based RT-PCR
SNP genotyping
Syber green based RT-PCR
ABI GeneAmp 9700 thermocycler
PCR and other thermocycling
ABI QuantStudio 7 thermocycler
Real-time PCR and Array Cards
ABI StepOne thermocycler
Real-time PCR
Affymetrix GeneChip System
Gene expression profiling
Global human genotyping
Agilent Bioanalyzer 2100
RNA, DNA and protein quantification
Beckman DU-50
UV-Vis spectrophotometry
Cepheid SmartCycler thermocycler
Gradient and real-time PCR
Eppendorf MasterCycler thermocycler
PCR and other thermocycling
Fuji LAS 4000
Captures images; chemiluminescence; ethidium bromide; white light images
IonTorrent PGM
Next-generation sequencing
IonProton
Next-generation sequencing
Nanodrop spectrophotometer
RNA, DNA, and protein quantification
PerkinElmer Piezorray
Custom DNA and protein array creation
QIAcube
Automation of Qiagen kits
RNA clean area
Provides an RNase-free work area and tools for RNA extraction
---
Fees
Annual Subscriptions
Basic: The basic subscription includes use of the PCR setup room and standard thermocyclers, as well as the RNA prep room for $50/year per lab. This subscription counts toward the annual use fee for one other piece of equipment. For example, a basic subscription plus the Nanodrop would be $100.
Cepheid SmartCycler Gradient and qPCR Thermocycler: Unlimited annual use of the Cepheid SmartCycler real-time thermocycler is $150; cuvettes are available for $0.60 each. The SmartCycler is designed for portability. Users wishing to borrow the SmartCylcer for field work should contact the CGR.
Fuji LAS-4000 Imaging System: Unlimited annual use of the LAS-4000 is $150.
Nanodrop Spectrophotometer: Unlimited annual use of the Nanodrop is $100. Pipettors and a variety of nucleic acid elution buffers are available for your convenience.
Per Use Fees
Affymetrix GeneChip Microarrays: All users wishing to perform GeneChip experiments will pay for their own reagents and supplies, including GeneChips, which can be purchased through CGR. Additionally, CGR charges $100 per chip towards the expense of maintenance. WSU users pay only $50 per chip.
Agilent 2100 Bioanalyzer: Bioanalyzer chips are paid for by users as needed and can be run for $10/chip by WSU users. Chips can be purchased through the CGR at cost for $30.
Applied Biosystems 7900HT Sequence Detection System: There is a $12 per plate charge for use of the ABI real-time thermocycler. Users pay for their own TaqMan or SYBR Green RT-qPCR kits, as well as tips, plates, and other supplies.
Accuri C6 Cytometer: Charges for the flow cytometer are still $30 per hour to cover sheath fluid and maintenance. Users should provide their own tubes and reagents.
It is the goal of the Center for Genomics Research to remain accessible to all Wright State customers. Users who feel unable to afford subscription fees should contact Dr. Michael Markey at michael.markey@wright.edu.