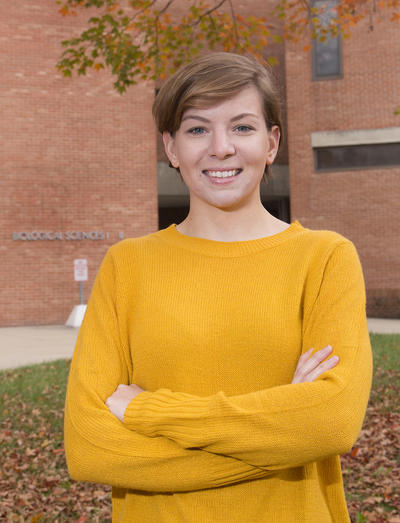 At 9 years old, Megan Reed was given an assignment to create a PowerPoint presentation. She decided on marine biology for her presentation topic and with that her passion for water ecology was ignited. 
As a Greenon high school student, she had heard about Wright State since it was close to home and several of her fellow classmates were planning to attend. Once at Wright State, Megan's passion for the water lead her to enroll in the university's scuba program where she earned her certification during her first term.
Scuba became one of her favorite courses and the scuba program coordinator and adjunct faculty member, Regina Bier, quickly became a mentor. Bier is a NAUI-certified course director - the highest level of certification the association gives to recreational diving teachers. Currently Megan is working on her certification as a dive professional and interning at the Newport Aquarium through the Wright State Underwater Raiders. Due of the reputation of the university's scuba program, the aquarium enjoys working with their students due to their abilities and safety standards. 
In addition to her internship at the aquarium, she works in the laboratory of Department of Earth and Environmental Science assistant professor Silvia Newell, Ph.D.
Megan's research focuses on standardizing water sampling methods in the field. Currently, the only standard for field sampling is set by the EPA which recommends that researchers filter and freeze their samples to 0.7 µm within 48 hours of initial retrieval.  If a sample isn't frozen for many hours after being obtained, the microbes could alter the amount of nutrients, causing researchers to present inaccurate data or come to false conclusions that aren't actually indicative of the environment being studied. This is a great problem for accurately monitoring nutrient concentrations in important bodies of water and wastewater treatment plants.  Megan is interested in learning about molecular techniques and how they apply to the environment. Her study has the potential to create a better standard protocol for water sampling in the field, ensuring the accuracy of data being represented.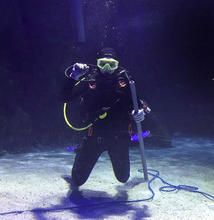 So how does a biological sciences major come to work in an earth and environmental sciences lab? In Megan's case, through a referral. While applying for a position in Chad Hammerschmidt's lab cleaning lab dishes, she was referred to Silvia Newell, Ph.D., and has worked in her lab for over a year. Newell has become another mentor and helped Megan to register for an Association for the Science of Limnology and Oceanography (ASLO) conference in Hawaii. The conference expanded her scope of science beyond the lab and provided her with networking opportunities. 
Seeking experiences has been Megan's way since high school where she became a member of the Ohio Air National Guard, 178th Wing in Springfield, Ohio. She is in her 4th year of service. 
Megan has this advise for current and future students, "I would highly recommend trying to pursue undergraduate student research in your field. Talk to your professors and offer to volunteer in their lab. That was how I started in Newell's lab, and now I am a paid technician with my own research that I hope will be published by the time I graduate. It gives you a huge advantage if you are interested in graduate school".