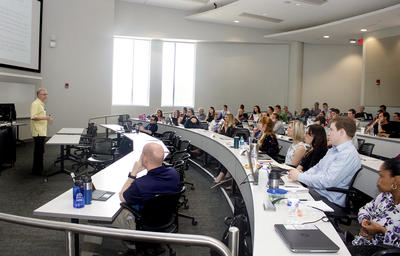 June 12 - 14, Wright State University hosted a Boot Camp on Event-related potentials (ERP). ERP is a form of electroencephalography (EEG) that is measured as a function of specific mental events – perceptual, cognitive, or motor. ERPs are a very useful tool to study human cognition. They are non-invasive, have a very high temporal resolution, and they can be use to pinpoint specific mental processes. ERPs are widely used as neurophysiological markers of perceptual and cognitive processes.
The 3-day boot camp was led by Steve Luck, PhD, Director of the Center for Mind and Brain, and professor of psychology at UC-Davis. It was a condensed version of the 10-day UC-Davis ERP Boot Camp, designed for beginning and intermediate ERP researchers, at any career stage, who were seeking to obtain a firm grasp of the fundamentals of ERP research, and to optimize use of ERP methods. The workshop was also aimed at more advanced users that are trying to take their research to the next level, as well as companies that are interested in using ERPs in product development. In addition to the ERP Boot Camp, Dr. Luck gave a research talk for the 711 HPW Chief Scientist Seminar Series during his visit.
The event was organized by Glenn Gunzelmann, PhD, Senior Research Psychologist at the Air Force Research Laboratory's (AFRL) Cognitive Science, Models, and Agents Branch, with support from the 711 Human Performance Wing Chief Scientist's Office. Wright State psychology faculty members, Assaf Harel, PhD, and Joe Houpt, PhD, assisted with the event. Logistical support for Dr. Luck's travel was provided by the Wright Brother's Institute.
Approximately 80 people attended the boot camp from Wright Patterson Air Force Base (WPAFB), Wright State University, University of Dayton, and area companies. Researchers at WPAFB are using EEG to better understand cognitive processing and cognitive state, including assessments or workload and fatigue and how they influence behavior.