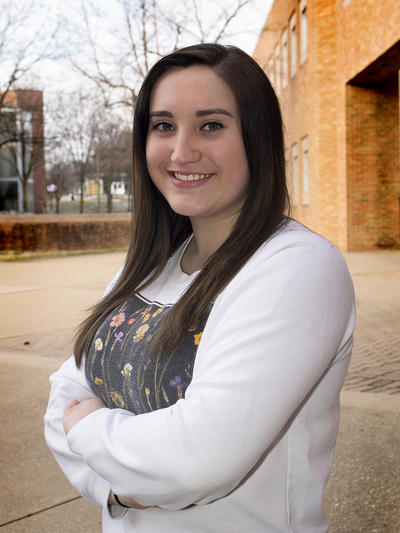 Marissa Ratliff is from Beavercreek, Ohio, she planned to stay local for college and was interested in attending Wright State. After a campus visit her decision to attend was finalized. She said, "when I walked on campus, I felt I was a part of a great community".
So why science & mathamatics? "I've always had a love-hate relationship with science/mathematics", she said, yet still decided to pursue a career in science and mathematics because she found it interesting and found that there was always something new to learn. 
In high school, her teachers stressed that college students have to work harder as teachers don't really (have time) to care about you. What surprised her about college was that this was not her experience, "I work just as hard, and it is different from high school, but still hard work. All the teacher's I've encountered at WSU are super nice and caring". Her advice is to try to have fun, and don't stress out too much, keep working and you will graduate!
On a typical college day, Marissa wakes up and immediately grabs an iced coffee, and then goes to class. She tries to make time to hang out with friends and family, and studies in the evenings when not working. When asked about what college experiences she would recommend to other students, she suggests to join student organizations, "pre-health club is amazing and try to form as many connections as you can with professors".
Some of her favorite courses have been classical mythology, which she had taken her freshman year. She found it very interesting and mind-opening. She also enjoys anything in psychology as that is her major, and encourages students to take PSY 1010!
After graduation, Marissa plans to attend an Occupational Therapy Doctoral Program. "I prepared for this by studying really hard in all my pre-OT classes at WSU, and studying for the GRE to get a really great score". Her hard work has paid-off as she has been admitted into the Kettering College accredited doctoral-degree-level Ocupational Therapy Program! 
She encourages fellow undergraduates interested in pursuing a career in a pre-health discipline to follow your dreams. She said, "I know it sounds cheesy but with determination and a positive attitude you can do anything. Before you truly start picking a career path, go shadow a health professional in that field. I thought I wanted to be something completely different until I shadowed OT and I fell in love! It is also good to volunteer and shadow a lot for your resume, make sure to track your hours". 
Marissa is majoring in Psychology, with a pre-health focus in occupational therapy and she is expected to graduate in 2018.