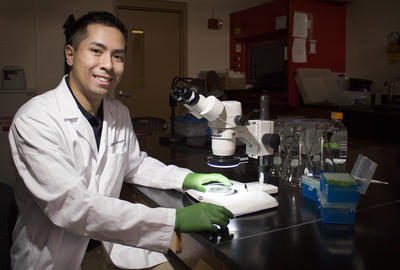 Eugene Matthew Almazan, graduated from the Department of Biological Sciences spring 2017. Presently, he is a medical student in the Boonshoft School of Medicine. Matt is working towards his professional dreams to use the tools of innovation and science in the service of others. As an undergraduate, he embraced so many of the opportunities available to students at Wright State creating a rich and meaningful experience.
Why did you choose Wright State University?
I was interested in pursuing higher education at an institution that celebrates the individual but has a strong sense of community. Wright State is a university dedicated to helping students like me better myself academically and professionally while at the same time providing avenues to contribute to the local community. As an academic institution, Wright State provides so many opportunities to excel and the tools and support for students to make their professional dreams come true.
Why did you decide you wanted to pursue a career path in science/mathematics?
I wanted to dedicate my efforts to helping others but at the same time, I was drawn to the innovation and possibilities of science. I choose biology as my major to maximize my exposure to science but it was not until I began working in a research lab that I began to understand the merits of actual science. Biomedical research gave me a better appreciation for how important scientific discovery can be used to improve our understanding and better treat human beings. I also gained a profound understanding of the complexities of our natural world and how powerful science can be in solving real world problems.
What surprised you most about college? In what way(s) was your experience different than what you expected, and do you have any advice for incoming freshman?
I was impressed by the autonomy and the need for self-reliance when it came to planning classes and keeping track of work and extracurricular activities. Often times, it felt as if time-management may have been a bigger challenge than the classes themselves. My biggest piece of advice would be to remember that as involved as you want to be in your first year of college, you must still remember that you have limits. It is important to avoid stretching yourself too thin with too many activities or courses to avoid feeling overwhelmed or "burned-out." 
What is a typical day for you?
I usually get up early to try to squeeze in a workout before getting ready for classes. When I first get on campus, I head to my research lab to get prepped for the day's experiments. Afterward, I rush off to lecture and class lab. After a brief lunch, I head off to another set of classes which is immediately followed by another trip to the research lab to complete my experiments. I usually end the day with a visit to the Student Government office to finish up emails and catch up with fellow students.  <[>What are some of your favorite courses and why? <[>One thing that I have really liked about being a science major is the opportunity to take courses that are smaller in class size where the instruction is more interactive and there are more discussions than traditional lectures. I have really enjoyed the biology recitations during my freshman year where we had the opportunity to discuss scientific literature in a relaxed and open setting. In contrast to large lecture classes, the small class size made the recitation very appealing and allowed me to really get to know my fellow biology majors. Furthermore, everyone appreciates how the professors that taught these sections really put a lot of effort into engaging all students in constructive discussion and debate about the relevance of the scientific topics that we covered.
What experiences have you had since starting college that you'd recommend to other students? (ex. study abroad, research, volunteer, student organizations, etc.)
I have always been a big fan of our student organizations, particularly our Student Government Association (SGA). SGA has worked to represent student interests and encourage a sense of campus community by the events we host. Our goal is to reach a wide range of students and we have a variety of positions that are available for those interested in serving in SGA from volunteering in one of our committees to running for a paid, elected position. 
Aside from student government, I really enjoyed working as an undergraduate in a lab where I had the opportunity to participate in biomedical research. Undergraduate research is an exciting experience that applies the knowledge gained from lecture and class to a laboratory setting. The College of Science and Mathematics readily provides opportunities to students to participate in active, research and lab work where one can uncover insights into the sciences.
Lastly, I would also recommend participating in various community service events available on-campus. Service taught me the importance of giving back to a community that has been very generous and there are various avenues of service that are available for students. Our university and our college encourages many opportunities to get involved whether it is as simple as volunteering at a nearby clinic or food pantry, or as collaborative as helping bring student organizations together to fundraise for a common cause. 
What do you love about Wright State?
I am impressed by our close-knit campus community and how students are able to unite behind a common cause such as our campus fundraising for events like Raiderthon (a dance marathon to raise funds for Dayton Children's Medical Center). I enjoyed making connections with students and gained an appreciation for the hard work students put into raising awareness for causes that go beyond the reach of our campus. 
I like that different opportunities are available for career and professional development. Wright State provides many resources for student to not only pick out a field of interest but to also succeed in that field. Our faculty readily encourage students to participate in some form of experiential learning whether it is undergraduate research or an internship. Most importantly, our college does a good job of providing support for our endeavors financially through employment or grants, and academically through comprehensive academic advising. 
What would you tell a high school student or fellow undergraduate interested in pursuing a degree in science or mathematics?
I would encourage them to explore any field of interest and find something they are passionate about. The College of Science and Math has many available majors that are offered to make those passions become a reality and the teaching faculty to guide students to their dream profession. I also recommend taking part in shadowing activities, internships, or student employment in the field of interest to confirm and reevaluate one's choice of study before entering that field as a professional.