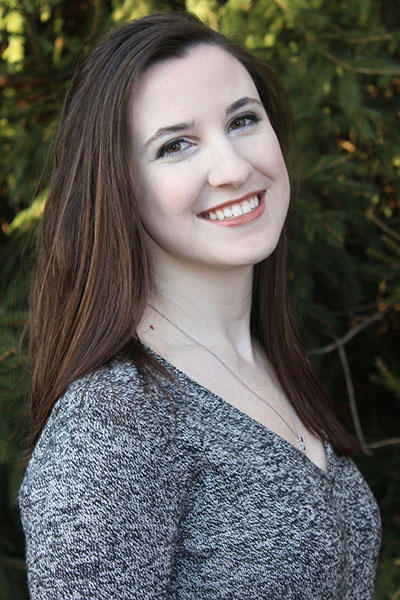 At Wright State, you can find your people, find your mentor, and find your future. Kaitlyn Herbst '19 found her people when she switched majors and began studying statistics.
"A few of the statistics majors became friends and we kind of made our own little study group," Herbst said. "One of our friends thought he had done badly on an assignment. I told him, 'I am 98 percent confident there is an 86 percent chance you didn't fail.' That's how we talked to each other."
Herbst didn't always speak in probabilities. A back injury derailed her original career path in musical theater. She pursued another major for two semesters until a calculus class changed her direction—and her peer group.
"The instructor (Erik Potts) and I were drawing out a problem on the board and I figured it out without him telling me the actual theorem," Herbst recalled. "He just looked at me and said, 'That is exactly it.' That was the moment I rediscovered how much I loved math."
And, she found others who loved math for the same reasons.
"Once I started getting to know the other students, I realized they were coming up with the same types of questions I was—the types of questions that led me to statistics in the first place."
The quest to answer those questions sustained Herbst through completing her bachelor's degree in statistics in April 2019 and her scheduled completion of a master's degree in applied statistics in December 2020. Her abilities led to opportunities that included an internship, and eventual employment, with the system engineering solutions department at Ball Aerospace.
Herbst's decision to switch majors was confirmed during her time working in a microbiology lab.
"I like predictive statistics," Herbst said. "Science is messy. Many times I would do X and Y and not get B and I would get so frustrated. There is so much failure in research. I did not like that, the unknowns. I like knowing what's going to happen and making informed decisions. I like to know all the options."
While at Wright State, the Mount Vernon, Ohio, native served as a graduate teaching assistant, created a Discord community for other statistics majors, was active in the math club, and tutored both independently and at the Math Learning Center. She also forged relationships with professors, alumni, and business connections that helped open even more career options than the many already available to statistics majors.
"What I love about Wright State is its size," Herbst said. "Not too small, not too big. Your professors know who you are. I wouldn't have gotten this job without those relationships.
There is no way I would have the connections I do here."
Those connections led to a career opportunity at Ball Aerospace, where her duties include exploring and analyzing data, determining patterns, constructing graphs, and determining "how to communicate statistics to non-statistics people."
"A calculus professor took the time to talk to me about something I was interested in," Herbst said. "The professors, the people, the relationships—those are the reasons I am where I am today."