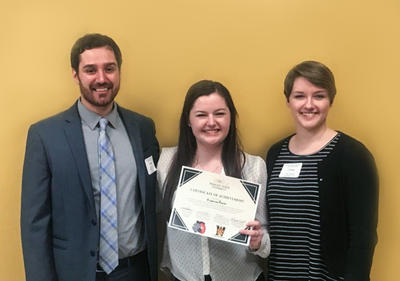 Rebecca Reese, a freshman in the Biochemistry Molecular Biology (BMB) department, won the first-place award of Undergraduate Research Poster Session of the Inaugural Biomedical Research Conference in 2018. As the first place award winner, she also received a $100 honorarium. Rebecca has conducted her work under the guidance of Hongmei Ren, PhD, assistant professor in the BMB department. Dr. Ren's research interests focus on lipid metabolism, its association with autophagic clearance of mitochondria (mitophagy) and homeostasis, and its effects on cardiac and skeletal muscle function. Rebecca's research poster is titled "Lipin1 is required for skeletal muscle development".
Rebecca has assisted in a research project lead by Abdulrahman Jama, a Master student in Dr. Ren's lab. They are using cell type-specific Myf5-cre;Lipin1fl/fl conditional knockout mice (Lipin1Myf5cKO) which showed that lipin1 is a major determinant of skeletal muscle development. Lipin1, an intracellular protein that plays critical roles in controlling lipid synthesis and energy metabolism through its enzymatic activity and nuclear transcriptional functions.
Recent human studies have suggested that children with lipin1 deficiency suffer from severe rhabdomyolysis, the breakdown of damaged skeletal muscle, and type 2 muscle fiber atrophy. While the underlying pathophysiologic mechanism is still poorly understood, their results suggest that lipin1 regulates myoblast differentiation through the protein kinase C (PKC)/histone deacetylase 5 (HDAC5)/myocyte-specific enhancer factor 2C (MEF2c): MyoD-mediated pathway.
Lipin1 deficiency leads to the suppression of PKC isoform activities, as well as the inhibition of their downstream target, class II deacetylase HDAC5 nuclear export, and consequently, the inhibition of MEF2c and MyoD expression in the skeletal muscle of Lipin1Myf5cKO mice. These findings provide insights into the signaling circuitry that regulates skeletal muscle development and have important implications for developing intervention aimed at treatment of rhabdomyolysis and muscle atrophy.