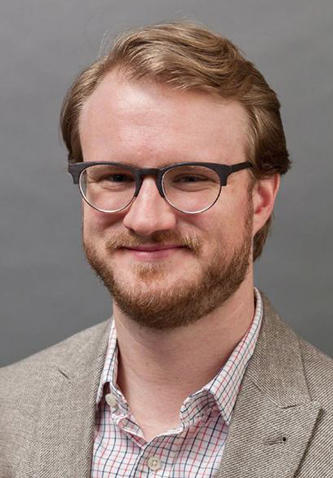 Alumnus Nathaniel Stafford returned to Wright State on February 15th to give a research talk and to meet with students for a "Q & A" session.  He is a PhD candidate in the University of New Hampshire's Department of Psychology. Stafford is studying the neurobiology of stress and resilience. His talk was titled "Ultrasonic vocalizations and stress resilience: Behavioral and neurobiological correlates".
The ability to cope plays a large role in how an organism responds to a stressor. Stafford's research interests pertain to the ultrasonic vocalizations (USVs) in adult lab rats during intermittent swim stress tests and this behavior's association with stress and resilience. He is investigating innate mechanisms like vocalizations and how vocal rats do not exhibit anxiety-like post-stress behaviors. Vocalization may predict innate resilience on several endpoints of behavioral depression. Stafford discussed how they are currently researching the relationship between coping responses and neurobiological correlates in the dorsal raphe nucleus brain regions. 
As an undergraduate psychology student in the behavioral neuroscience concentration, Stafford worked as a research assistant for Drs. Michael Hennessy and Patricia Schiml. Hennessy and Schiml rely on both graduate and undergraduate research assistants for their work. Their laboratory is focused on understanding the mechanisms underlying the impact of environmental challenges, or "stressors" and how they shape behavioral and biological development. In humans, early social stressors such as abuse, neglect, and separation from the mother have been linked to a greater propensity to develop psychopathology such as major depression in adolescence and adulthood. These effects appear to involve complex interactions between the brain, hormones, and aspects of the immune system.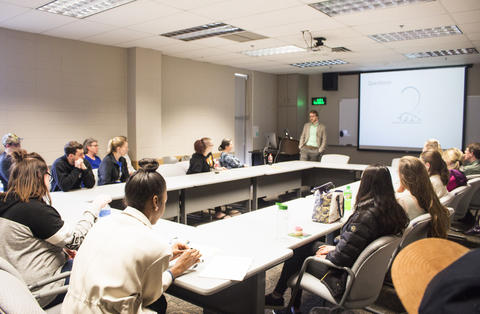 During the "Q & A" session Stafford offered some tips for students looking for graduate programs. Pick an advisor whose research interests align with your own. If you experience problems reaching the desired advisor, try emailing a current graduate student working their laboratory. Interviews with graduate programs along with casual meetings are a great way to learn the structure of the program and to assess if you are compatible with the research team. Also, ask about what type of funding package is being offered. Competition for resources can be high among programs. It is important to know if a full graduate teaching or research assistantship will be offered or if you will need to compete each year. 
Stafford credited Hennessy and Schiml for providing him with valuable experience in behavioral neuroscience methods. During his capstone seminars he was required to write succinct review-type papers which proved instrumental in his preparation for graduate seminars and lab work. As a graduate student he learned the importance of time management and dedication to research; including set-up time, classes, and publishing. He emphasized the importance of meeting regularly with advisors regarding "challenges and solutions". In addition, his role has expanded into teaching which is very different from research. "Teaching has been a good experience", he said, "as now I am expected to be the expert".