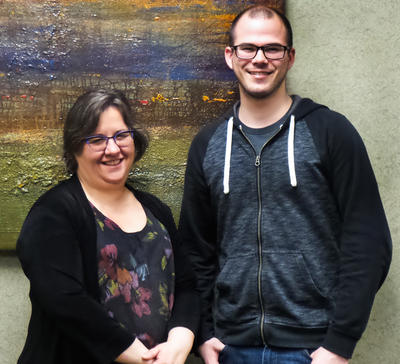 Joseph Sjoberg was good at math and Wright State University offered the Applied Mathematics program he wanted along with the added bonus of being close to home. He grew up in Huber Heights and wanted to remain local while attending college. He was surprised about how much there was to learn about the world after high school. "The world is much larger, and scarier than I expected, but the sky's the limit in terms of what I can make of it". 
When asked why math, he said, "I first chose to study math because it came easy for me and I knew I could get a stable career out of it. You get a good feeling when you are able to do something you are good at. I stayed in the math program because I love the subject and desire to develop my skills". 
Joseph was surprised to be named Top Scholar for his department as he never thought of his accomplishments as remarkable or that he stood out from the crowd.  He commented, "I am incredibly honored that I was nominated as the Top Scholar for the Department of Mathematics and Statistics. It was very encouraging to hear the news and I do not take it for granted". 
But Joseph does indeed stand out from the crowd. In addition to being an excellent mathematics student, he has embarked on his own scholarship endeavors reading Medelson's Topology book and solving most of the problems to prepare for his graduate work along with reading additional textbooks. In addition, Joseph has worked as a mathematics tutor for two years. 
According to professor in the Department of Mathematics and Statistics, Steen Pedersen, PhD, Joseph got involved with other activities outside of his standard course work, most notably, he completed an undergraduate research project that lead to a publishable manuscript. Pedersen commented, "As a student he is enthusiastic and able to engage in a "give and take" with the instructor and fellow students. In group work he usually assumes a leadership role, generating many of the new ideas needed to solve any particular problem". 
Joseph's advice for incoming students is to study to understand, not just to pass tests. "There will be a day, two or three years into your program when you will be required to recall information from your first-year courses, and you do not want to be lost and confused in that moment. Don't procrastinate, don't skip class needlessly, do what is right the first time so you do not have to repeat yourself. Participate in group projects, talk to your classmates and visit your professors during office hours. Always assume that you have something to learn".
He also recommends research. "Math is great because you do not need a lab or experiments to do research. You just need paper and pen. And maybe some books and a professor's guidance. Any math student who would like to do research someday should know that they can (do research) now".
Joseph will be returning to Wright State in the fall for the M.S. in Applied Mathematics program where he will work as a graduate teaching assistant. "I would like to get a PhD someday and possibly teach at the university level".