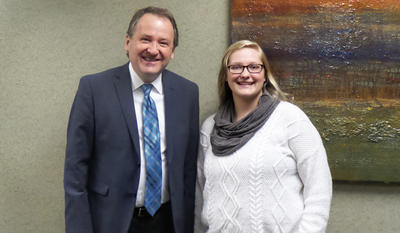 As a first generation college student, Allison Savoie, known as Ally by most, started her undergraduate program with a clear vision of her future. That is to become a professor to teach and do research. And she immediately took the initiative to make that happen.
As a sophomore she volunteered in the Earth & Environmental Sciences (EES) laboratory of assistant professor Silvia Newell, PhD, and quickly progressed to conducting her own research. Newell commented, "Ally is committed to becoming a scientist and is pursuing new opportunities to expand her research experience. Ally is exceptionally curious, dedicated, and highly motivated. She has great potential as a leader and a scientist." 
Ally thrived in a highly advanced environmental microbiology class that is cross-listed as a graduate level course. It is unusual for juniors to take this course and yet she did and volunteered to participate in an advanced project designed for graduate students. She has excelled academically to graduate with her undergraduate degree in three years.
She worked with Newell and research scientist Mark McCarthy, PhD, on a EES Departmental Honors Senior Thesis. The project is an expansion of an NSF Research Experience for Undergraduates (REU) project she began at the University of Texas Marine Science Institute. The focus is on biogeochemical processes related to nutrient cycling and the affects on the ecosystems. 
Ally applied and was awarded a grant from the National Science Foundation (NSF) Graduate Research Fellowship Program. The Fellowship covers three years of tuition at the graduate university of her choice and provides a stipend for those three years to support her research. Ally credits Newell as a valuable mentor, "I would like to thank Dr. Silvia Newell, my honor's research advisor, for her guidance and support during the application process".
In addition to her academics, she was on the Wright State swim club team, served as co-chair on the College of Science & Mathematics' Dean Circle, was a learning assistant for general chemistry, Vice President of two student organizations; Students for Earth and Environmental Sustainability (SEES) and the earth science honorary society, Sigma Gamma Epsilon (SGE), Students Honors Association, and served as a Chapter Delegate at the SGE Centennial Convention.
Ally is passionate about sharing her work in environmental science and has sought out jobs that gave her opportunities to teach. "As a teaching assistant for two semesters, she easily explained difficult concepts," commented Newell. She has volunteered at the Dayton Children's Water Festival, National Chemistry Week at the Boonshoft Science Museum, and for various activities through SEES including the Adopt-A-Highway clean-up and Earth Week events.
Her plans are to continue her research with Christopher Hayes, PhD, at the University of Southern Mississippi in the Department of Marine Science. For the near-term, Allison applied for a summer internship at the Ohio Environmental Protection Agency. Her future goal is to obtain a masters of science in marine sciences, with a focus on biogeochemistry. Then to earn a doctoral degree. Her ultimate career goal is to land a teaching and research position.