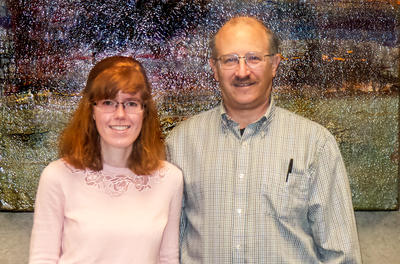 It was no surprise when Rachel Smith chose to attend Wright State as she had family who were Raiders. With a scholarship package, family recommendations, and the university's proximity to her home in Enon, Ohio she was ready to begin her own Wright State story.  
Rachel's story began as an undecided major. During her first semester, she enjoyed the labs in the Cells and Genes course taught by Dan Krane, PhD, professor of biological sciences. After taking the second freshman biology course, she decided to pursue a biology major, with a life science education concentration. Rachel commented, "during my sophomore year, I had the opportunity to serve as one of the Supplemental Instruction leaders for BIO 1150 (Organisms and Ecosystems), and I realized how much I enjoyed teaching and helping others understand the complex concepts in science". 
While Rachel was surprised to receive the 2018 Top Scholar for Biological Sciences, the biology faculty agreed that Rachel stood out as the Top Scholar choice. David Goldstein, PhD, professor and chair of the Department of Biological Science stated in his nomination form how remarkable this consensus was as Rachel is quiet and reserved by nature. Even so, her talents were widely recognized. She credits Dr. Goldstein as being one of her most influential professors as well as an amazing mentor.  She said, "this recognition is very special to me particularly because Dr. Goldstein nominated me. Our conversations were always fun and interesting, and I'm so glad I was able to share this honor with him".
Goldstein introduced her to Lisa Kenyon, PhD, associate professor of biological sciences, which opened the door to undergraduate research and another faculty mentor. Rachel said her departmental honors project with Kenyon was a phenomenal experience. She learned how to design and conduct a research experiment, write a research paper, and present results in a way that was understandable.  And she learned science education pedagogy for her future teaching career.
Reflecting on her undergraduate years, she is most surprised by how she grew as an individual. She commented, "I knew coming into college that I would "grow up," but I didn't realize just how much I would mature, especially socially and emotionally.  I also didn't anticipate being what I like to refer to as a hybrid student". When people discovered she studied both biology and music, many of them commented about the amount of work. Although the work load was heavy sometimes, she wouldn't have traded either subject because of the friends and faculty mentors in both departments who helped and inspired her. "During my last semester, I presented an undergraduate research project in science education and I performed a solo flute recital, which I definitely could not have done as a freshman". 
Outside of the sciences, she enjoyed her honors capstone course about Dayton's aviation heritage. "We visited many aviation and Wright Brothers sites around the Dayton area, and conducted research into an aviation topic of our choice using the sources available in Wright State's archives. Having grown up in this area, I knew some of the aviation history stories, but I was fascinated to learn more about our history and to visit new sites in the region," she said. Her favorite biology course was molecular biology lab with Dr. Bubulya. The course was challenging, yet she learned how to keep an organized lab notebook and run experiments independently and efficiently. 
Rachel worked as a Supplemental Instructor for two semesters, a reasearch assistant, and taught chemistry as a student teacher at the Dayton STEM School, where she learned teaching and time management skills. Also, she conducted an honors research project, while pursuing a minor in music. She was very active in the music department, playing in the Wright State Flute Studio, Symphonic Band, and Pep Band. "Music has always been the way I express myself, and I really enjoyed being able to continue my musical studies while in college. Music may not be everybody's forte, but I highly recommend finding something you're passionate about and pursuing it".
She encourages students to connect with fellow classmates and professors, and not to be afraid to try multiple areas of interest. Rachel said, "my relationships with my professors and classmates are some of my fondest memories of my undergraduate career, and they helped me to get where I am today. After I declared my major as biological sciences, I investigated a couple different labs and areas of science before I landed in education.  Even though I didn't pursue the other areas, I'm glad I tried them because it helped me to narrow down what I wanted to do".
Currently, Rachel is in the Masters of Education program at Wright State, which is a yearlong graduate program in which she will earn both a masters degree and a license to teach integrated science for grades 7-12.  After completing her graduate program, she plans to teach science at the high school level while still remaining active in musical activities, hopefully finding opportunities to teach music or integrate music into her classroom.  Her long-term goal is to earn a Ph.D. and teach at the university level.