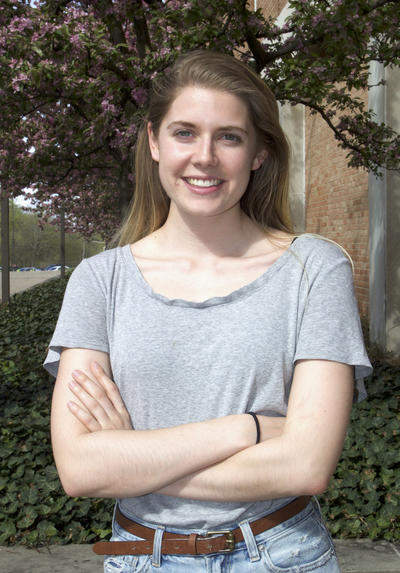 Becca Ewing was familiar with Wright State since her dad had worked on campus as an Army ROTC professor. As the salutatorian of her high school class in Batavia, OH, Wright State offered her excellent financial aid, with the added benefit of being close to home.
Her love of science began young, so she was surprised about how long it took to declare a major. Becca said, "I was sure I wanted to do biology research so finding out that I wasn't actually interested in that was surprising and confusing". In high school she wasn't attracted to physics. But once at Wright State, she encountered a persuasive professor who talked about how exciting physics research was, how much math was involved, and how many jobs you could get with a physics degree. Missing math and remembering how she enjoyed calculus in high school she decided to be a physics and mathematics dual major.
During her freshman year, she found her professors at Wright State to be personable and that they cared about students success. She encourages student to take advantage of that support as soon as possible. "I would recommend incoming freshman to talk to their professors and the upperclassmen in their majors, and keep their eyes open for opportunities whether that be scholarships, internships, or organizations".
She believes that you get out of things what you put in them. And Becca should know. As a student she became a tutor, she served on the Dean's Circle, was selected as a Considine Scholar,  interned at the Air Force Institute of Technology (AFIT), and started the Math Club. "Whatever you're interested in you can find something on campus to be a part of – and if there isn't anything for you, you can start it yourself". 
Some of Becca's favorite classes were the upper level math courses like Partial Differential Equations or Real Variables. Quantum Mechanics was another favorite because of the keen applications. "But possibly my favorite course was my senior project because I was doing real physics".  She appreciated the independent research experience and the ability to work on her project for an extended period of time. She said, "I got to see the project through from the beginning all the way through writing a paper and presenting a talk on the subject. That was a great experience and I had fun doing it".
When asked about being named Top Scholar for Physics and the College of Science and Mathematics' she expressed surprise. "There are plenty of talented and really smart individuals graduating in physics this year and so I didn't expect to be nominated for Top Scholar. I think it's an honor to recieve this award and it means a lot that the professors in my department have confidence in me". Jason Deibel, PhD, associate professor and chair of the Department of Physics shared glowing remarks in her nomination form. And her acceptance into the National Science Foundation (NSF) REU at the University of Florida. Deibel wrote, "This program, one of the most competitive among NSF programs, sent Becca to Italy for the summer to study gravitational waves. She was able to present her summer research poster at the 2018 American Astronomical Meeting in Washington, D.C. She also presented her AFIT work, which is her senior thesis project, at a SPIE National Conference this past April". He also comments how she has been able to accomplish this while maintaining a nearly perfect GPA. 
The REU was her most influential experience. She said, "I would highly recommend anyone who is in STEM to apply for these opportunities every summer". The REU allowed her to do real research in her area of interest, gravitational physics, as well as networking with other professionals in the field outside of WSU". More specifically, gaining research experience is important for students seeking to pursue a career in STEM. "It's never too early to start looking for research experience. I would recommend asking professors to work with them, applying to research positions on the base, and especially applying to REUs". Her advice is to apply for any position of interest – don't let anything stop you. Just go for it!
This summer Becca is working at AFIT and continuing her senior project research. This Fall, she will start her Physics PhD program at Penn State. She plans to study gravitational waves astrophysics. She said, "I'm interested in doing research and teaching so I hope that I'll be able to get a position as a professor at a university".