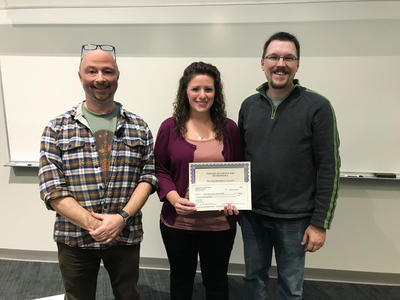 On October 24th the College of Science and Mathematics recognized outstanding faculty at the college Faculty and Staff meeting. Congratulations to our winners who are listed below along with the award catagories. 
Spirit of Innovation Award winner is the Human Anatomy & Physiology Interactive (HAPI) Lab.  Coordinators Bridgett Severt and Patrick Sonner (pictured at the right) were recognized for setting up interactive neuroscience experiments. The Department of Neuroscience, Cell Biology, and Physiology at Wright State University provides presentations to hundreds of high school and technical college anatomy students each year. The hands-on anatomy lab provides an excellent opportunity for students to experience and further their understanding of human anatomy. Students are presented with an overview of the structure and function of the major organ systems of the body using healthy and diseased organs.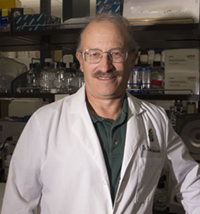 University Professor Award was awarded to David Goldstein, PhD, Professor and Chair of the Department of Biological Sciences. His research centers on the comparative and ecological physiology of animals, partucularly the kidney function and regulation of fluid and solute balance.  His lab is studying gray treefrogs that accumulate glycerol during cold acclimation, in anticipation of freezing.  Because proteins from the aquaporin family are capable of facilitating transport of water and glycerol, we are especially interested in the roles of those proteins in cryobiology. 
NTE Teaching Award winner is Tom Bubulya, PhD, Senior Lecturer in the Department of Biological Sciences. He earned his PhD in molecular biology  from University of Toledo where his thesis work focused on transcriptional regulation by nuclear receptors. Bubulya has worked at Wright State since 2005.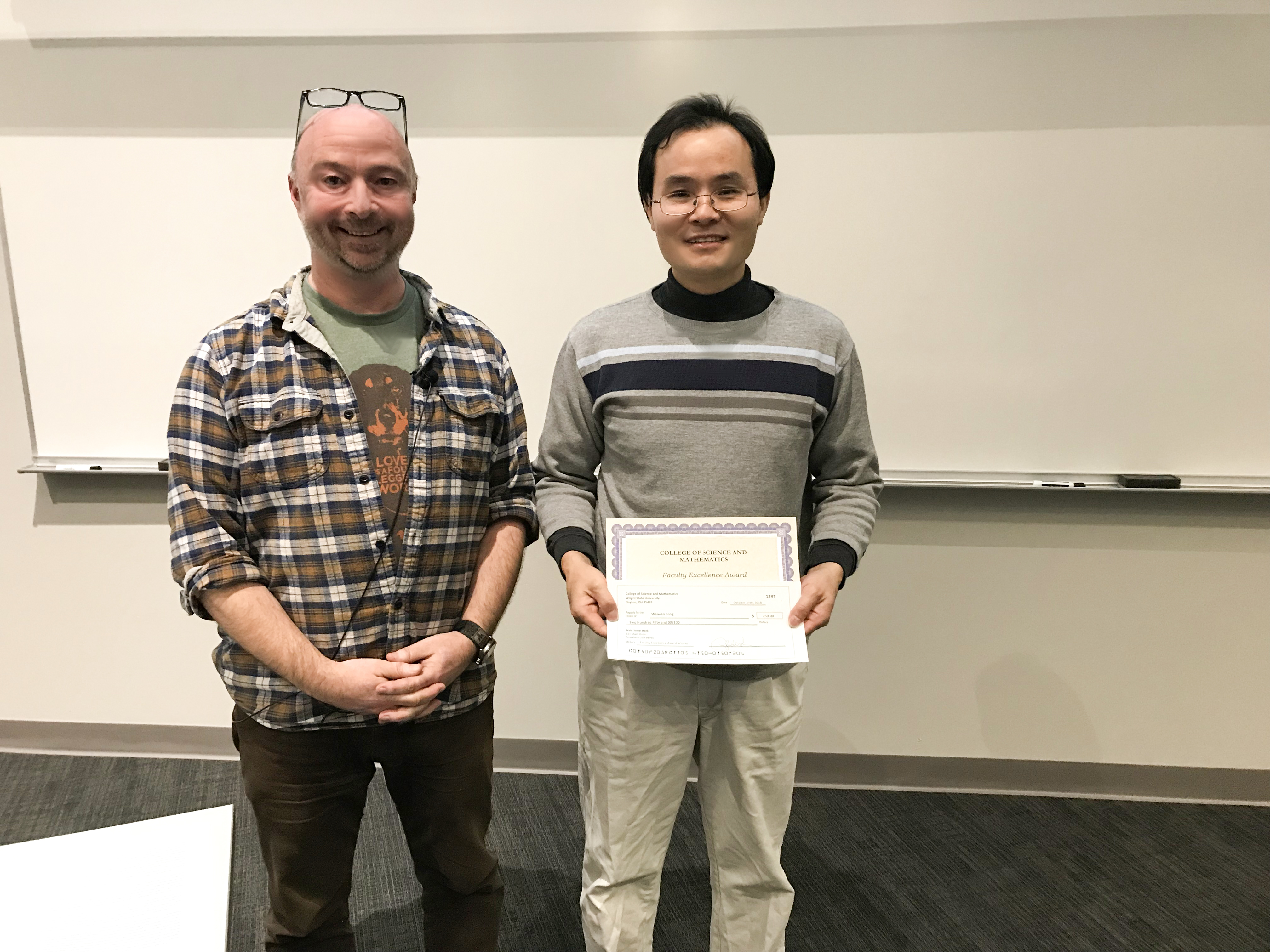 Faculty Early Career Achievement went to Weiwen Long, PhD, Assistant Professor in the Department of Biochemistry & Molecular Biology. His research interests and expertise have been directed to the fields of growth factor signaling, steroid receptor/coactivator signaling, and the interplay between these two signaling pathways in cancer progression and metastasis. Long teaches courses in cell signaling and cancer biology and joined the faculty at Wright State in 2013. He earned his PhD in structural and cellular biology in 2005 from Tulane University.