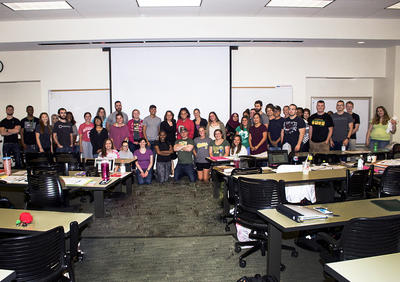 On behalf of the CoSM Dean's Circle, the college is pleased to announce Ioana Pavel, Ph.D. as this year's winner for the College of Science & Mathematics "Student's Choice Award for Outstanding Teaching." Pavel is an associate professor for the Department of Chemistry. She joined Wright State University in 2008. Her research interests range from Bioimaging and cancer research, environmental chemistry, nanotoxicology, and nano-education and chemical education.
Below are just a few of the numerous comments received by students:
She is a wonderful person and teacher who genuinely cares about her students. She doesn't assume that her students are all knowing, and thoroughly explains everything. She also realizes that her students' lives don't revolve around her class 24/7 and gives reasonable assignments with ample practice. If I had more teachers like her in my previous major, it would have taken me much longer to switch.
Pavel is amazing. She took every opportunity to help every student understand the material and gave us several opportunities to receive extra credit to help improve our grades (if we wanted). The class was challenging but fun and she was always supportive of our goals whether it was a program in chemistry or not.
Dr Pavel is one of the best teacher by far since I have been a student here. She cares deeply for her students and does what she can to help us succeed. Love her lots!!
She is more than willing to take out time from lectures to help students understand different aspects of the topic of chemistry.
Pavel cares about her students as much as she cares about her own children. She puts so much effort into teaching as well as her research. It seems like she does everything.
When asked about the award, Pavel expressed her graditude for her students. She commented, "I love my students and feel truly honored to help them reach their academic goals. To all of my students, thank you for your wonderful comments and vote! Please do not forget that each and every one of you matter and can make a difference".
This award is managed by the CoSM Dean's Circle to provide an opportunity for students to recognize an educator who is passionate about their discipline, who have a desire to improve understanding and critical thinking, and who have a commitment to students' education. Thank you to the 250+ students who participated and took the time to vote this year.
Congratulations, Dr. Pavel!  Thank you for being an outstanding teacher.