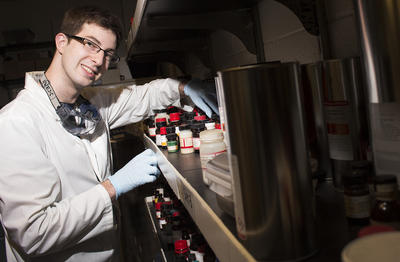 This is the fourth of a 5-part series featuring The College of Science & Mathematics' Top Scholars. The college is proud to share the accomplishments of our talented students.
This article features James Herbort, Top Scholar for the Department of Chemistry.
James Herbort started his academic career interested in music performance.  Then he discovered how science, specifically chemistry, allows for expressions of creativity. And a career in chemistry would satisfy two other needs; better career stability, and provide an outlet to positively impact society. 
James choose Wright State University for its size and value. Being a mid-sized school that supports experiential learning, he took advantage of the undergraduate research opportunities that are available to students. He felt fortunate to have had Dr. William Feld as his research advisor and mentor.  Dr. Feld teaches organic chemistry and upper level polymer synthesis, among other subjects. During his time in the Feld lab, James worked in the field of polymer and small molecule synthesis.  A polymer is a long chain of molecules made of repeating units of monomers. The physical properties of polymers can be tuned to suit different applications by altering the molecular weight of the polymer, the identity of the repeat unit, and the interactions between polymer chains. Polymers are ubiquitous, and because of their widespread use, 50% of chemistry graduates will at some point in their career work in polymer research or synthesis.  
During the summer of 2016 James participated in a National Science Foundation funded research experience for undergraduates program (REU) at The State University of New York (SUNY) Stony Brook. During his time at Stony Brook, James worked in the laboratory of Ming-Yu Ngai in the field of visible light photo-redox catalysis. Photo-redox catalysis is an area of chemistry that has garnered increased interest because of the sustainability of using light to facilitate molecular transformations. Also, this type of chemistry allows access to a whole new realm of reactivity that can't be reached by conventional methods. The SUNY experience gave James a glimpse into another area of chemistry and allowed him to learn many useful laboratory techniques. He participated in group meetings where members presented their ideas, research updates, and goals. "The REU was an eye-opening experience, and was a great compliment to the research that I've done at Wright State."
James encourages students interested in science and mathematics to talk with people and professionals who are involved in their areas of interest to learn how to prepare and achieve goals. In the Department of Chemistry he worked with faculty mentors who provided valuable experiences that prepared him to compete with scientists from top tier universities. James credits faculty mentors like David Dolson, Ph.D., and Eric Fossum, Ph.D. who shared their passion and commitment to the sciences with their students. James stated, "They taught by example, and instilled in me a desire to attach your name to quality work and to be mindful of your professional and personal reputation." 
James is not all work, in his spare time he enjoys computer games which he plays live with friends using Skype.  
When asked about being named Top Scholar for the Department of Chemistry he said, "I am very proud of this nomination and I hope to represent Wright State well during my career." He is on his way to fulfill that hope as May of this year James moved to Columbus to prepare for his Ph.D. program in organic chemistry at The Ohio State University.  It is a 5-year program, after completing he plans to apply for a postdoctoral fellowship out of the area.