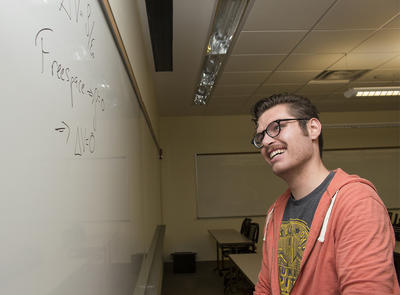 This is the second of a 5-part series featuring CoSM's Top Scholars. The College of Science & Mathematics is privileged to spot-light such talented students.
This article features Josh Jordan as the Top Scholar for the Department of Mathematics and the Department of Physics.
In High school, Josh Jordan's academic interest was English, specifically poetry for it's creative and expressive qualities. That is until a high school calculus teacher inspired a change by introducing Josh to mathematics. Through this class Josh discovered that math could be beautiful and his focus immediately shifted to mathematics with the end goal of becoming a high school math teacher.  Josh attended the Dayton Regional STEM School, and their connections with Wright State University made selecting a university seamless. Early-on at Wright State, another encounter propelled Josh on a path towards research when a discrete math professor recognize his potential and invited him to do research. The experience was transformative and served as a catalyst into pursuing a career in academia as a professor at a research institute.
Josh has a thirst for knowledge and would often stay after class to talk with his professors. Through these conversations he found mentors which led to collaborations in research. This led to Josh's senior project in computational modeling being supervised by Physics Chair, Jason Deibel.  While taking analytical mechanics, he discovered how indispensable computational tools are in science. Calculus and differential equations, in physics, are used to study complex relationships between one property and another. Josh explained, "ultrafast terahertz optics need an intense signal to improve." Deibel had the method and it was up to him to implement a mathematical model that would predict and/or simulate signal strength.  Practice in designing problem-solving physics strategies turns students into experienced problem solvers, and this was certainly the case with Josh. 
While he devoted a majority of his time to scholarship, Josh made time to serve a two-year term on the CoSM Dean's Circle, a student advisory board that  meet with the Dean once a month during fall and spring semesters to discuss college-related issues that are high on the minds of CoSM students. Members are selected based on their interest, academic achievement, and leadership skills. The Circle hosts STEMulations, entertaining talks and demonstrations that highlight STEM fields, along with serving as student ambassadors at various events. Josh was the Circle's co-chair for one year of his term. His advice to students is to get involved. "Building a support network is more important than you realize when you start college," said Josh.
Josh will continue working with Deibel preparing their work for publication. Mid-summer he will be traveling to the University of California, Irving to graduate school. His program is mathematics, geometrical analysis which takes ideas from geometry and differential equations rooted in physics.