Our campus, research, technology, and academic clubs are all experiencing innovation and growth that make this the best time to be a Raider! Getting involved in campus life, meeting new people and developing leadership skills will enhance your total college experience and is an important piece of your college career. Take a moment to view our student life video to discover some of the ways you can connect with other students and get involved!
Dean's Circle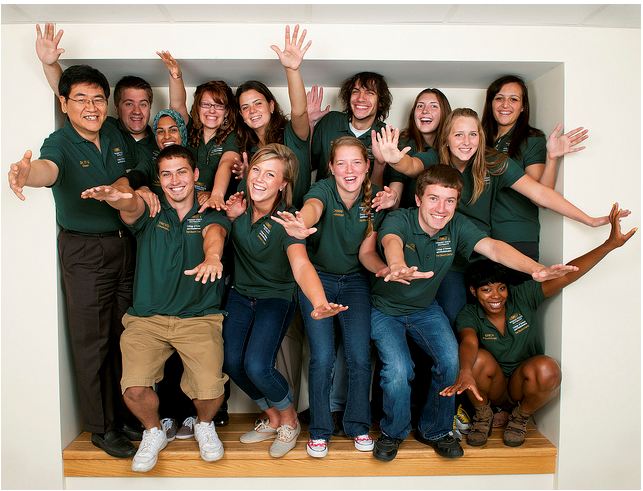 To learn more about concerns of undergraduate students in the college, in 2008, Dean Wheatly established a new student advisory board called the Dean's Circle. Consisting of undergraduate students who, together, represent the College's six comprehensive departments: biological sciences, chemistry, earth and environmental sciences, mathematics and statistics, physics, and psychology. The Dean's Circle will meet with the Dean once a month during fall and spring semesters to discuss college-related issues that are high on the minds of CoSM students.
In addition to their major, the members of the Dean's Circle were selected based on their interest, academic achievement, and leadership skills. Assistant Dean Joyce Howes serves as the group's advisor.
Dean's Circle Members for 2013-2014
Tazeen Ahmed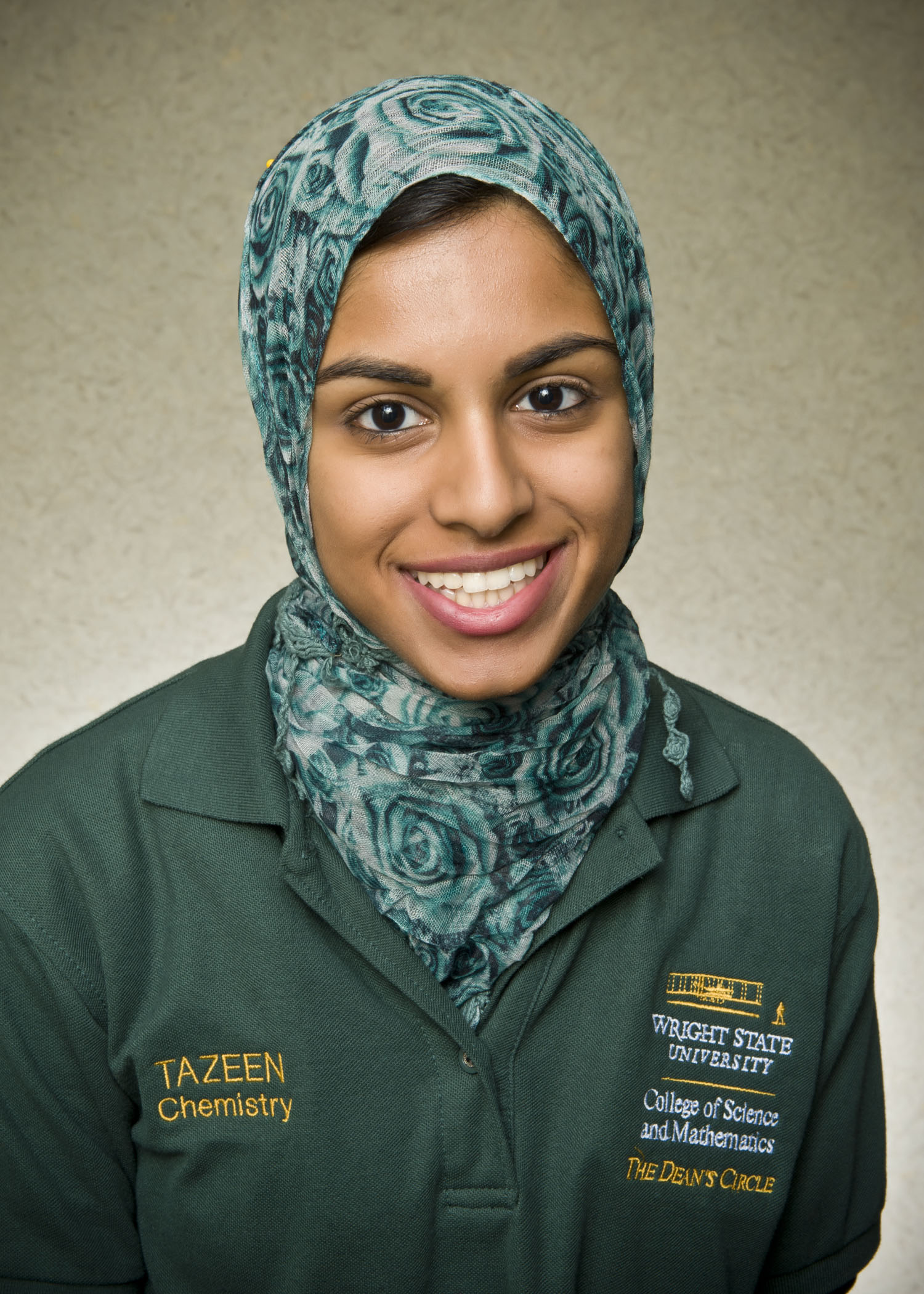 Tazeen Ahmed is a senior majoring in Biological Sciences with a focus in pre-health. She plans on obtaining a Master's of Physician Assistant after undergrad. She is currently the Coordinator for the President's Ambassadors, Vice President of the Muslim Student Association, involved in Biology Club, Optimist Club, and on the Dean Circle for the College of Science and Math. She commutes from her home in Centerville, Ohio where she loves spending time with family and friends. Her goals are to one day travel abroad to places like Somalia and the Middle East and help those who can't afford proper medical treatments. 
Laila Raed Al-Khasawneh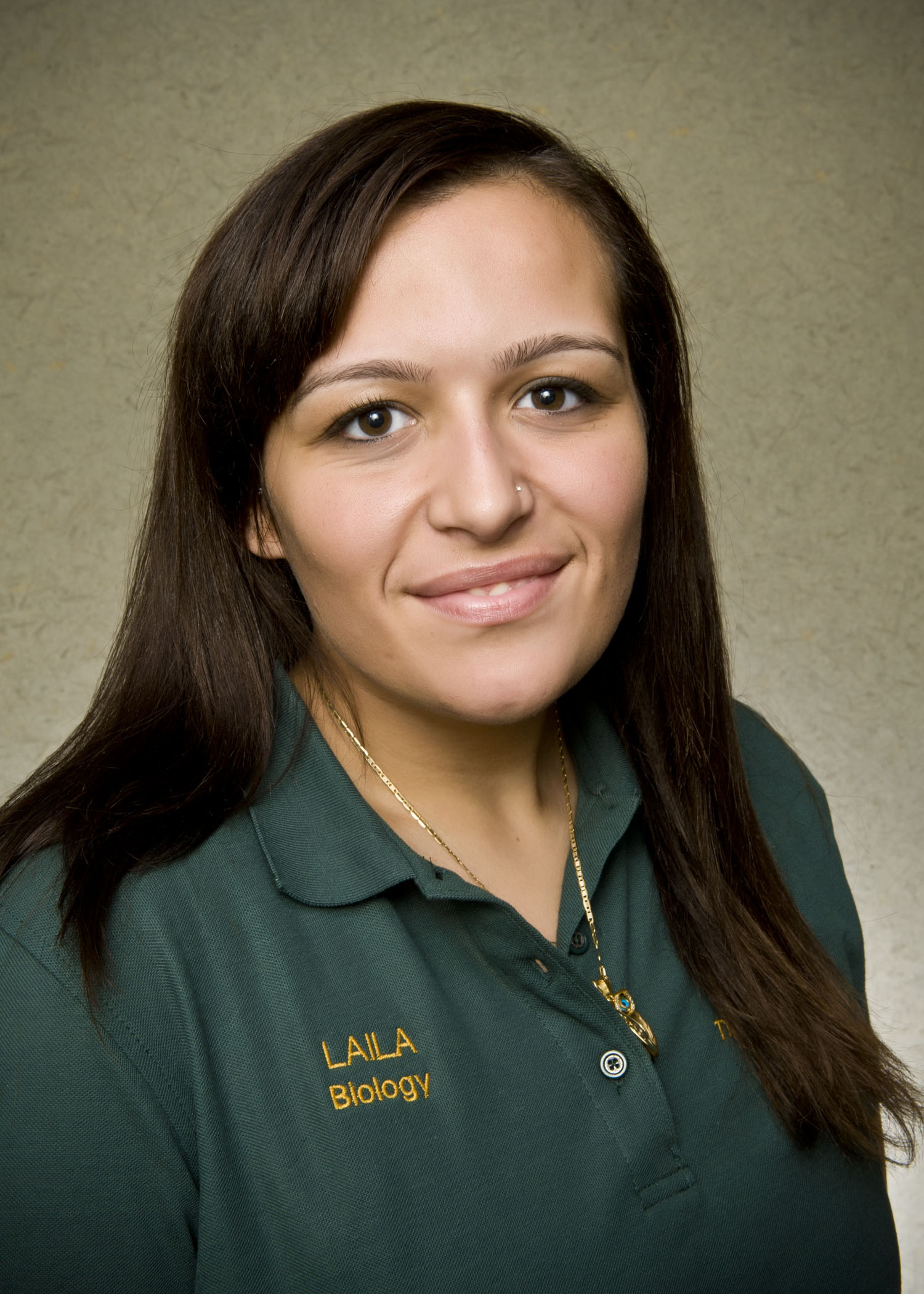 My name is Laila Al-Khasawneh and I am a senior majoring in Biology. I am the President of the Middle East Culture and Politics Organization here at Wright State, where we aim to spread awareness of the current issues in the Middle East. I also am president of Synthetic Biology club here at Wright State, which focuses on teaching students more about how we can incorporate engineering into biological means. When I am not on campus, I try to stay involved with my community as much as I can. I am one of the founders of L.I.F.E- Liberty, Independence, Freedom, and Equality. This is a community organization dedicating to getting people together spreading the importance of diversity and trying to get everyone to get more involved for a good cause. My future goals are to be a family doctor one day, it sure has been a tough road but with determination and persistence I have no doubt in my mind that I will achieve my goals! 
Trevor Bobka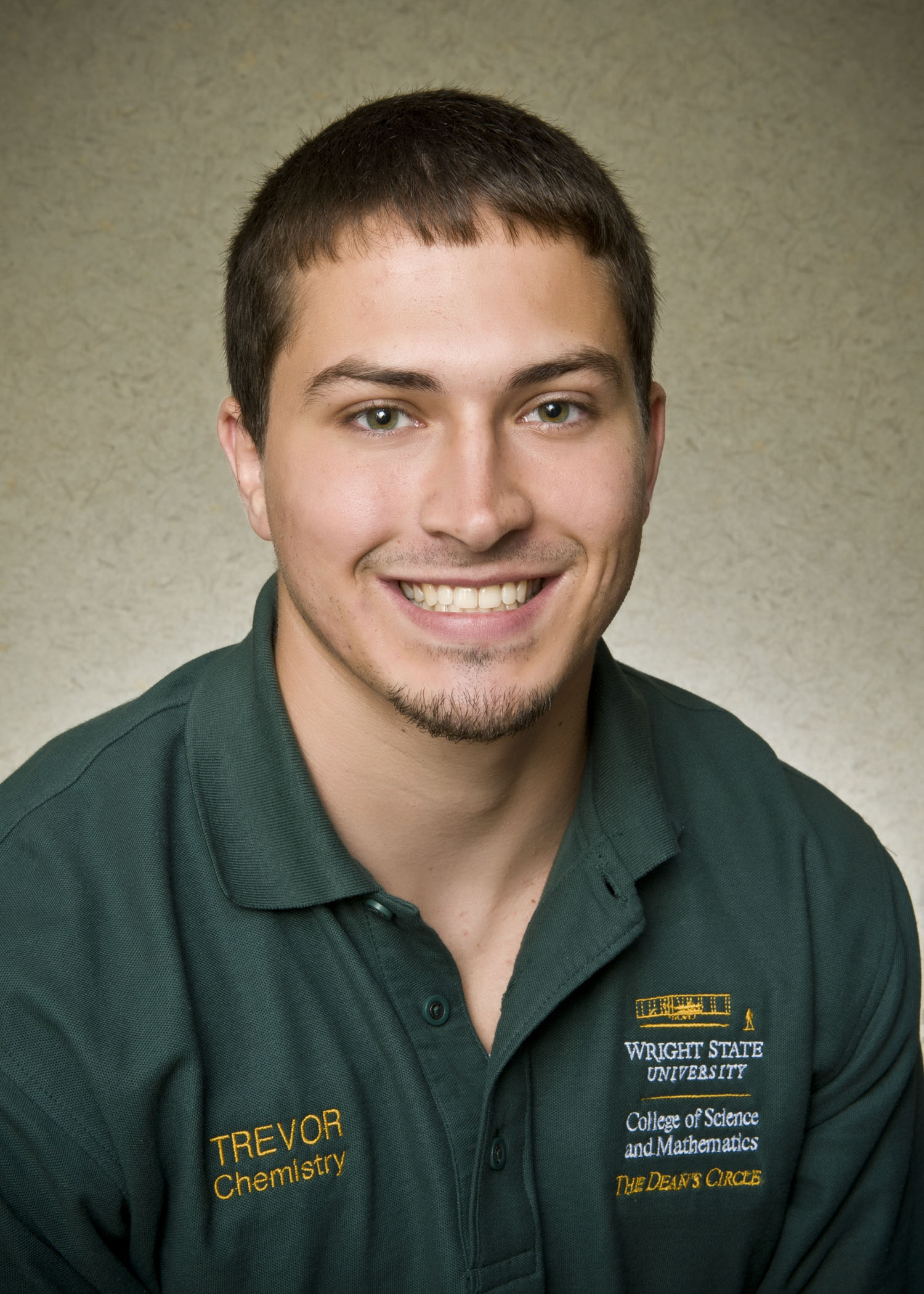 My name is Trevor Bobka, and I am majoring in Chemistry with a minor in Computer Science. Currently, I am involved in Dr. (Pavel) Sizemore's research group where we focus on the toxicity of silver nanoparticles. Also, I was a supplemental instructor for the CHM 121 class during the winter quarter, and I look forward to continue with that opportunity in the fall. Upon graduation, I aspire to gain acceptance into medical school where I will pursue my goal of becoming an orthopedic surgeon. In the mean time, I plan on finishing my remaining schoolwork and taking part in more volunteering opportunities.
Daniela R. Branco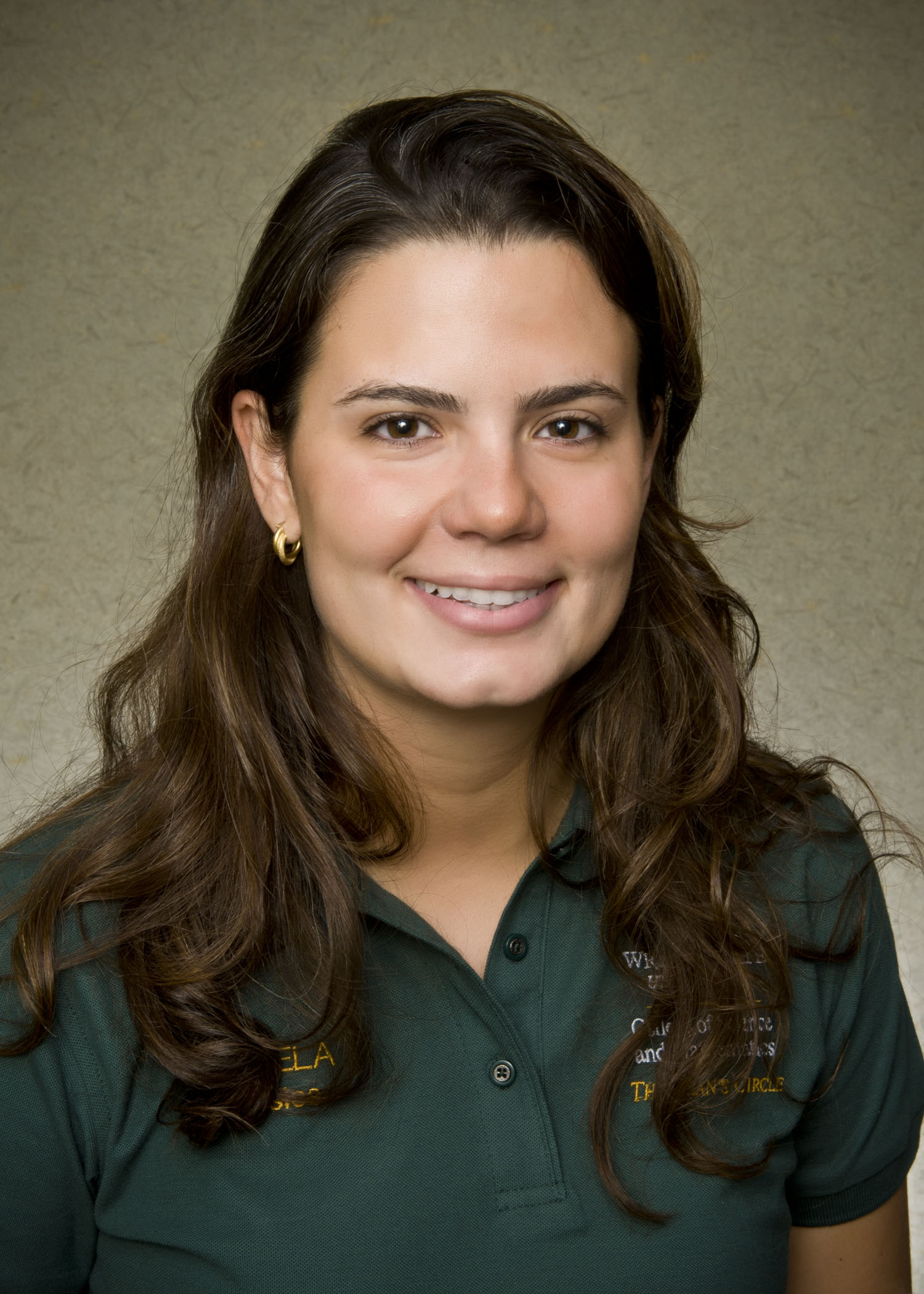 My name is Daniela Branco and I am senior majoring in Physics here at Wright State University. I am currently doing research with the Physics Department on Terahertz Breath Analysis. I highly enjoy the research and hope to publish a paper before I graduate. I plan on going to graduate school next year for Medical Physics and work with radiation therapy. I can't believe this is my last year in college and I am looking forward to my future career. 
Steffani Mae Hoelscher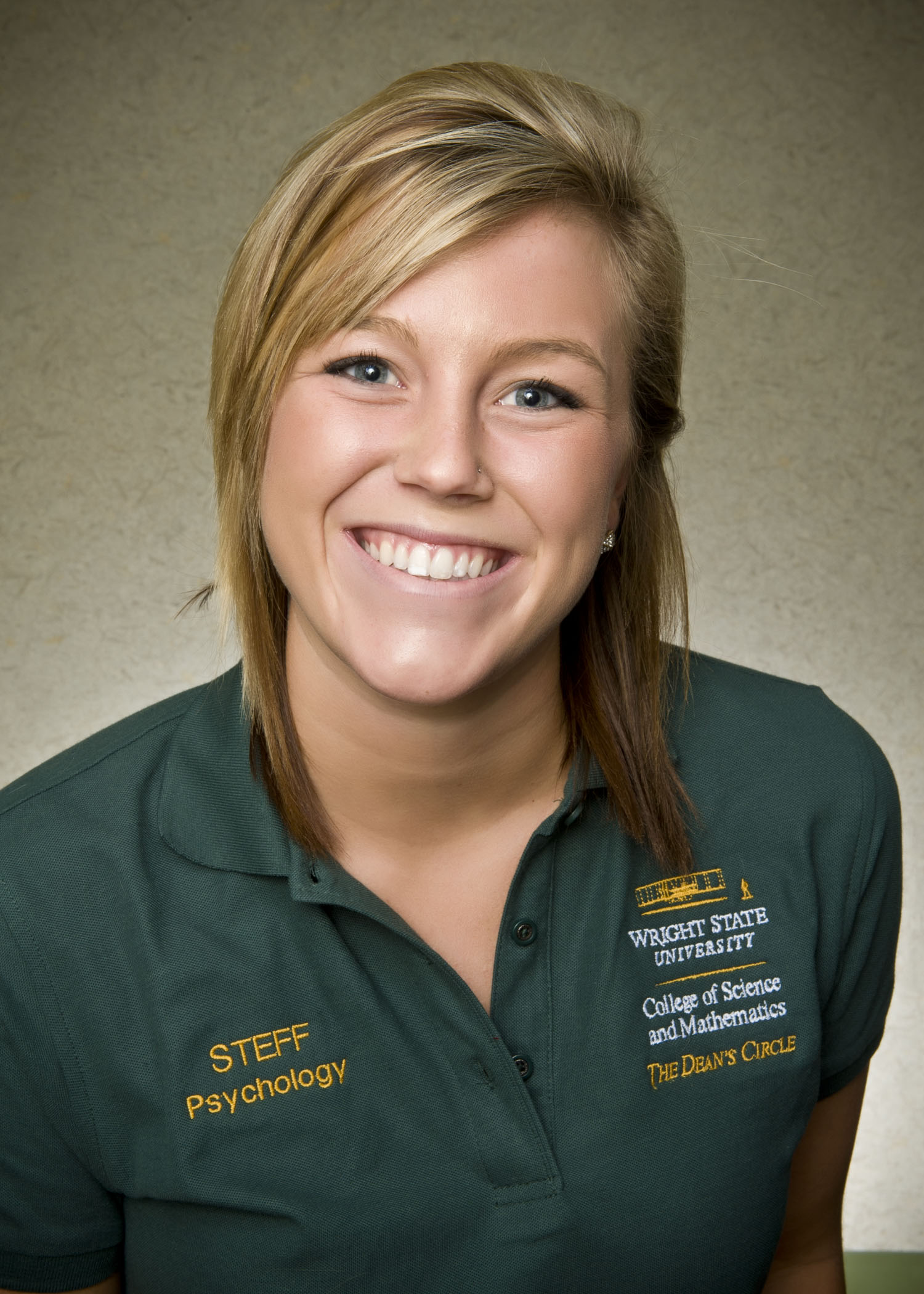 My name is Steffani Hoelscher, and I am a senior pursuing a Psychology honors degree and a Marketing minor. On campus, I am an active member of the Psychology Club, the College of Science and Mathematics Dean's Circle and am currently serving as President of the WSU chapter of Psi Chi. I am the lead office assistant for the Psychology Undergraduate Program Office here at Wright State. I am also working with First Year Programs as a UH 1010 Peer Instructor. I am currently working on my Departmental Honors Project with Dr. Herbert Colle, studying the Effects of Cues on Spatial Memory. After graduation, I hope to be accepted into a PhD program to study Social Psychology with a concentration in Consumer Behavior. I am excited to serve as a student representative for Psychology students and encourage increased enthusiasm for science within the community!
Matthew Johnson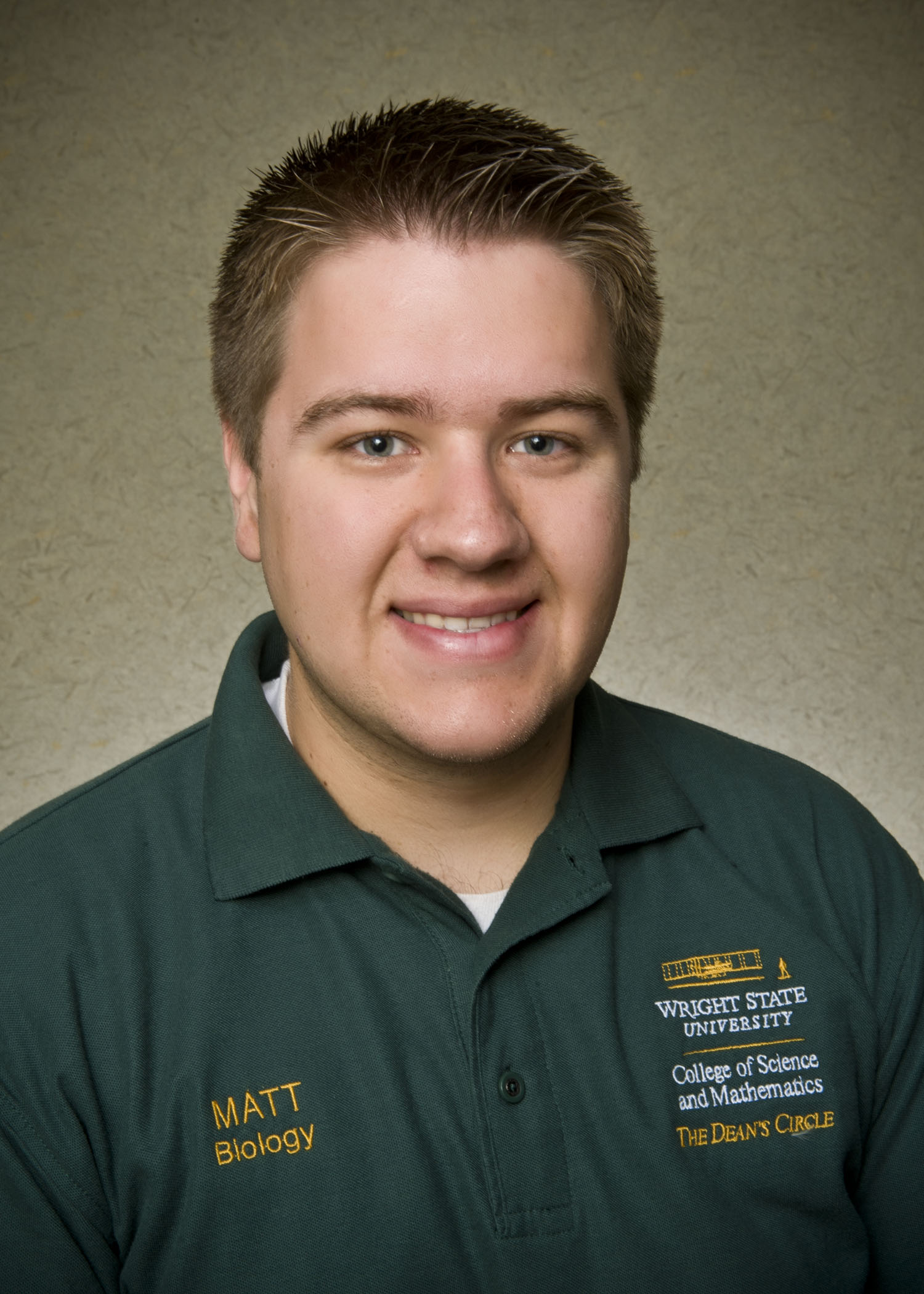 My name is Matt Johnson and I am a senior majoring in Biological Sciences with a Premed Concentration. This year, I am serving as the College of Science and Mathematics Senator for Student Government. I have the responsibility and honor of representing my fellow CoSM students by voicing their concerns, issues, and bringing up new ideas for the college at weekly student government meetings!! Along with this, I am also a Head Resident Assistant for the College Park Apartments on campus! This is my third year as an RA and I truly love getting to work with the awesome students at Wright State that have chosen to live on campus!  I enjoy doing new and fun things and absolutely anything outdoors!! Feel free to contact me via email if you have any questions or concerns and let me know how I can help you achieve your goals while being a Raider!! Good luck with all of your academic endeavors! 
Grace Klinger
My name is Grace Klinger and I am a senior majoring in Biology and Chemistry. I have an associate'sdegree from the Lake Campus in Chemistry where I found my passion in algae bio-fuel research. I currently do research in the biochemistry department and after graduation, plan on getting my Ph.D. in bio-fuels research area. I am your current chair of the Dean's Circleas well as the president of the Chemistry Club. I love talking with students to get them excited about science whether they are elementary schoolers at our local science fests, high schoolers at our open houses, or college students looking into getting more involved. The circle is here for students' questions and concerns so please feel free to contact me. Go study hard at the library, step out of your comfort zone and network, and have a wonderful year!
Nhi Hue Lam
My name is Nhi Lam, and I am a junior majoring in chemistry and biology. I am currently serving as the vice president of C. J. McLin Jr. Scholars as well as working with Dr. Ioana Sizemore's research group on studies of nanoparticles toxicity. Outside of school, I volunteer at Soin Medical Center. After graduation, I hope to attend medical school and pursue a career in dermatology. I am very excited to be a part of the Dean's Circle this year, and I will work to the best of my ability to better assist you in your experience as a COSM student.
Erica Page
Hello everyone I'm Erica Page, a senior at Wright State majoring in Psychology with a concentration in Industrial/Organizational. I graduate in December and hope to begin a doctoral program in I/O psychology next fall. Aside from being a member of the College of Science and Mathematics' Dean's circle, I am also a research assistant to a number of psychology professors on campus, a member of Psi Chi and a member of the Black Student Union.  As a returning member, I had a great time meeting new students and introducing them to the COSM culture here at Wright State and I look forward to continuing in that same spirit this semester. 
Jace Robinson
Hi, my name is Jace Robinson and I am currently in my second year at Wright State. I am an Applied Mathematics major. I really enjoy mathematics and am excited about the various career opportunities after college. I am currently a teaching assistant on campus for multiple math courses. Being a teaching assistant has been a very satisfying and beneficial experience. When I graduate I plan to immediately enter graduate school and get my Masters degree in Mathematics. After that I plan on entering the workforce or possibly getting my Ph.D with the goal of becoming a professor. I would really enjoy working in Academia. The Dean's Circle will be a great opportunity for me to make a difference in the College of Science and Mathematics. Thank you for reading and I hope you have a nice day!
Martin Weber
My name is Martin Weber and I am a senior majoring in Physics. I am excited to be planning my future graduate studies in pursuit of either particle physics or astronomy, in which both areas have been of great interest to me for many years. As the current President of The Society of Physics Students I look forward to sharing my enthusiasm for the sciences with everyone.  You will find me both teaching and preparing the 1000 and 2000 level physics labs as well as participating in outside volunteer teaching.  I also enjoy speaking at local outreach events for STEM and always take pleasure in being able to get the community excited about the sciences!
Cassaundra Willer
Hello all! My name is Cassie Willer and I am a junior majoring in Psychology, minoring is Sociology. I plan on obtaining a Master's degree in counseling after my undergraduate. I am a member of the College of Science and Mathematics Dean's Circle and this is my second year as a Resident Assistant in the residence halls on campus. I am excited to be a member of the Dean's Circle and look forward to sharing my enthusiasm with all of you this year about COSM!
Elisabeth Wise
Hello Everyone!  My name is Elisabeth Wise, and I am a junior majoring in Psychology.  In addition to serving the WSU community on the Dean's Circle, I also work for the University Writing Center! After obtaining my undergraduate degree, I look forward to continuing my studies in Psychology in the hopes of one day becoming a clinical psychologist.  When I am not dancing on my way to class, or studying in the library, I also work as a Nursing assistant and as a peer counselor. I look forward to serving on the Dean's Circle, and I am very excited to help with any and all questions concerning the College of Science and Math!
Carissa Wolfe
My name is Carissa Wolfe. I am a junior, Biology major with a concentration in Applied Physiology. My goal is to become an occupational therapist and work with children who have developmental disorders. On campus I am the outreach coordinator for Campus Crusade for Christ (CRU), am involved with International Friendships Incorporated, Biology club, and swim club. I am currently searching for a faculty member to do research with, specifically in the area of health and/or physiology. 
CoSM Student Orgs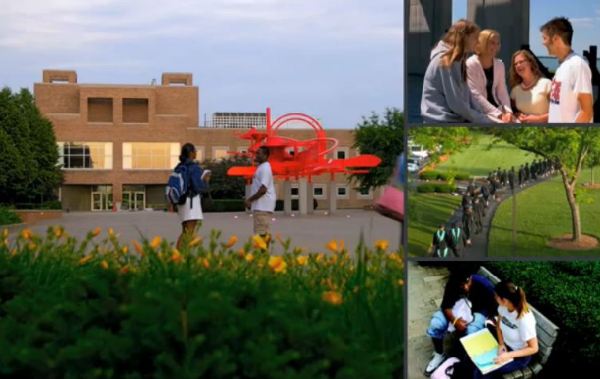 Wright State University offers an endless list of club oppotuniries thourgh the office of Student Activities. Whether you're interested in journalism, dancing, chemistry, service, ministry, music or anything else, there is likely a club waiting for you. And if there is not, form one! Whatever you choose, you'll develop long-lasting relationships with students who share your same passion and learn the importance of teamwork, communication, and problem-solving skills. Academic clubs are involved in interesting and enjoyable activities that bring students closer together and provides a good opportunity to create a support system. Serving as a student club officer looks great on a resume and on an application to graduate school. 
The College of Science and Mathematics has a number of student club organizations you can get involved in. Come join in and see what great students you'll soon become friends with. Contact the student organization President for more information. 
Biology Club: This club is open to anyone who has an interest in the biological sciences or who is pursuing it as a major or career. 
Chemistry Club: This club is open to anyone who has an interest in chemistry or is pursuing it as a major or career.
Earth and Environmental Sciences (EES) Student Organizations: Student chapters of Sigma Gamma Epsilon (SGE), the American Institute of Professional Geologist (AIPG), and the WSU Student Chapter of the Kitty Hawk Section of the American Society of Safety Engineers.
Multicultural Association of Pre-Med Students: Contact Kritika Sharma or Katelynn Alcorn
Physics Club and Sigma Pi Sigma Honor Society: Contact Martin Weber
Pre-Health Societies: The Pre-Health Societies are built upon connecting  pre-medical,, pre-optometry, pre-pharmacy, and pre-veterinary students to build networks and to attend various events related to pre-health fields. 
Psychology Club : The Psychology club is an academic organization for all Wright State University undergraduates interested in psychology. Our purpose is to supply information, opportunities and resources to our members that will enhance their academic career.
Student Senator
My name is Matt Johnson and I am a Biology Pre-Med major. 
I am currently a Resident Assistant for the residence halls on campus and a member of the Biology Club and Pre-Medical Society. For both of these organizations, I served as an officer for the 2011-2012 academic year. I have also been an active member of the College of Science and Math Dean's Circle over the current academic year. This opportunity, along with many others, have provided me with a great chance to not only get to know the dean of my college better, but more importantly to bring the concerns and interests of the students within my college to the dean's attention. I have a great passion for those within my college, whether it is those doing research, those wanting to become doctors, physical therapists, or whatever profession they choose, and their success matters to me. I want everyone within the College of Science and Math to not only graduate with a degree from Wright State University, but to be proud of where they came from and how they got there. By being elected Senator for the College of Science and Math for the 2013-2014 academic year, I believe I can definitely fulfill this goal.
Managing Your Time
College life is easier and less stressful when you develop good time management habits. Efficient use of your time helps you organize your life, work smarter, and stay focused on your prioroties. These tips may help you develop good time management habits. 
Know what is important to achieve, your short-term and long-term goals
Schedule your time according to what is important and include time for assessing your plan. If you procrastinate then do your most difficult task first.
Know your work patterns and use the time of day when you are most productive to accomplish important tasks.
Use time savers like reading introductions and summaries, highlight key information, and keep your workspace organized.
 Read more on Effective Time Management at WSU