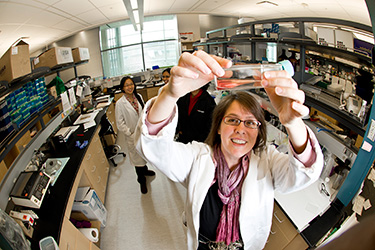 Our mission is to create passion for Science and Mathematics through evidence-based discovery, and advancing knowledge of the natural world. CoSM has a strong basic science focus with a growing emphasis on applied research, averaging over $10 million annually in grants and contracts.
Close relations with area hospitals, Wright-Patterson Air Force Base, the Air Force Research Laboratory, and the Air Force Institute of Technology provide many unique opportunities for research collaborations.
Areas of research loosely align with our three (soon to be four) PhD programs:
           Human Factors and Industrial Organization  "HFIO" 
           Starting by 2015 - Interdisciplinary Applied Science and Mathematics "IASM"
Research News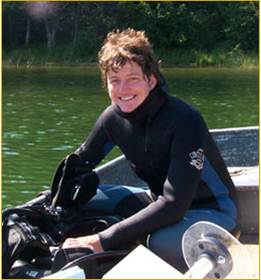 Yvonne Vadeboncoeur, Ph.D., associate professor of Biological Sciences, is an investigator with the collaborative Tuungane Project in East Africa. The ecological survey focused on the freshwater component of the Lake Tanganyika ecosystem, Tanganyika is the second largest and second deepest freshwater lake in the world. Two key threats to the near-shore biodiversity is sedimentation and over-fishing. The lake is a global hotspot of freshwater biodiversity and a significant source of protien for million of inhabitants. Read the full study, The Tuungane Project Report.
Research Clusters
The college's eight departments provide CoSM with a unique blend of disciplines: from psychology to neuroscience or brain activity, chemistry to biochemistry, sensor development to sensory perception, and computational modeling of ecosystems to water percolation in soils.
The college has instituted a new hiring strategy to develop areas of strength across typical departmental borders. The current research clusters that the college is developing include:
Cell Signaling
Environmental Sciences - Science of Global Change
Computational Science and Modeling
Science Education
To find scholary articles, student projects and more from the colleges & schools use Wright State University's Campus Online Repository (CORE). This web-based system captures, archives, and organizes the scholarly and historical legacy of Wright State University.
---
Graduate students work with faculty experts in many exciting areas of research.
Learn more about Graduate Research Opportunities
---
Undergraduate student research is a wonderful and exciting way to expand your college experiences. Hands-on learning will:
give you an opportunity to learn more about subjects that interests you most
provide you the chance to work closely with a faculty member and his/her research group
develop and improve your skills that will help prepare you for the work force
Learn more about Undergraduate Research Opportunities Program
Funding & Grant Support
The Office of Research and Sponsored Programs (RSP) works with researchers identifying possible source of funding. RSP provides the necessary documentation for proposal submission, including meeting all compliance assurances. Successful awards are managed by the Post-Award office in RSP. Their website contains links to resources aiding in the successful acquisition of research funding.