Our campus, research, technology, and academic clubs are all experiencing innovation and growth that make this the best time to be a Raider! Getting involved in campus life, meeting new people and developing leadership skills will enhance your total college experience and is an important piece of your college career. Take a moment to view our student life video to discover some of the ways you can connect with other students and get involved!
CoSM Student Orgs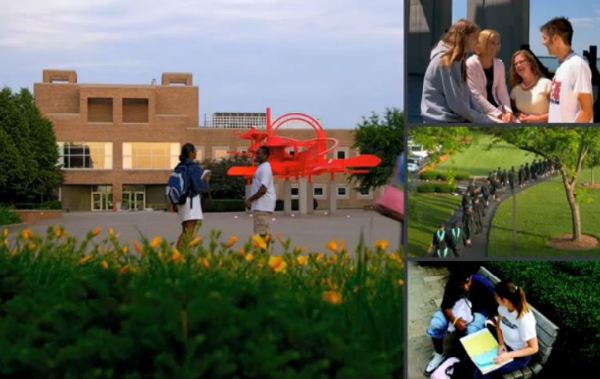 Wright State University offers an endless list of club oppotuniries thourgh the office of Student Activities. Whether you're interested in journalism, dancing, chemistry, service, ministry, music or anything else, there is likely a club waiting for you. And if there is not, form one! Whatever you choose, you'll develop long-lasting relationships with students who share your same passion and learn the importance of teamwork, communication, and problem-solving skills. Academic clubs are involved in interesting and enjoyable activities that bring students closer together and provides a good opportunity to create a support system. Serving as a student club officer looks great on a resume and on an application to graduate school. 
The College of Science and Mathematics has a number of student club organizations you can get involved in. Come join in and see what great students you'll soon become friends with. Contact the student organization President for more information. 
Biology Club: This club is open to anyone who has an interest in the biological sciences or who is pursuing it as a major or career. 
Chemistry Club: This club is open to anyone who has an interest in chemistry or is pursuing it as a major or career.
Earth and Environmental Sciences (EES) Student Organizations: Student chapters of Sigma Gamma Epsilon (SGE), the American Institute of Professional Geologist (AIPG), and the WSU Student Chapter of the Kitty Hawk Section of the American Society of Safety Engineers.
Multicultural Association of Pre-Med Students: Contact Kritika Sharma or Katelynn Alcorn
Physics Club and Sigma Pi Sigma Honor Society: Contact Martin Weber
Pre-Health Societies: The Pre-Health Societies are built upon connecting  pre-medical,, pre-optometry, pre-pharmacy, and pre-veterinary students to build networks and to attend various events related to pre-health fields. 
Psychology Club : The Psychology club is an academic organization for all Wright State University undergraduates interested in psychology. Our purpose is to supply information, opportunities and resources to our members that will enhance their academic career.
Dean's Circle
To learn more about concerns of undergraduate students in the college, in 2008, Dean Wheatly established a new student advisory board called the Dean's Circle. Consisting of undergraduate students who, together, represent the College's six comprehensive departments: biological sciences, chemistry, earth and environmental sciences, mathematics and statistics, physics, and psychology. The Dean's Circle will meet with the Dean once a month during fall and spring semesters to discuss college-related issues that are high on the minds of CoSM students.
In addition to their major, the members of the Dean's Circle were selected based on their interest, academic achievement, and leadership skills. Assistant Dean Jacqueline Neal serves as the group's advisor.
2016 CoSM Dean's Circle Applications  are accepted during spring term if you are interested in joining the Dean's Circle.  
Check out STEMulations, the presentation and demonstration series presented by the Dean's Circle to highlight STEM fields with exciting and informative events.
---
Dean's Circle Members for 2015-2016
Abigail Backs
My name is Abigail Backs, and I am a senior majoring in Biological Sciences. My ultimate goal is to attend the Boonshoft School of Medicine and open a pediatrics office in my hometown. I am currently the Secretary of the Student Alumni Association and a President's Ambassador, as well as being involved in the Premedical Society, Biology Club, Golden Key Society, and National Society of Collegiate Scholars. I look forward to serving on the Dean's Circle for the College of Science and Mathematics for the next two years, and as always, go Raiders!
Maria Dodd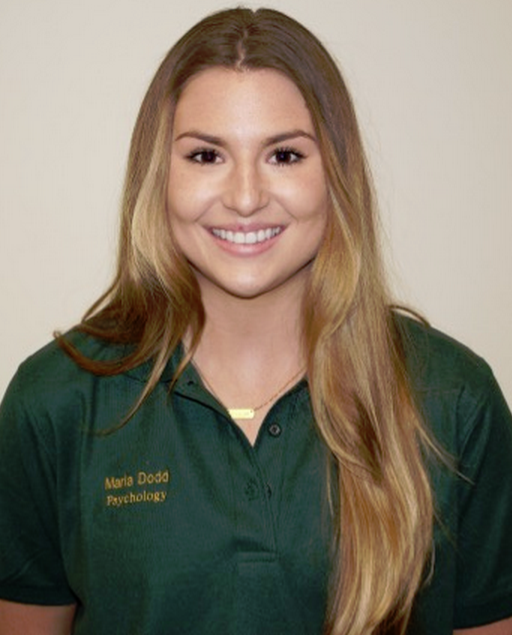 My name is Maria Dodd, and I am in my third year here at WSU. I am an honors Psychology student with a concentration in Behavioral Neuroscience, and I am also  pursuing a pre-med track. I love the neuroscience discipline as well as medicine, and I  work in a neuroscience lab, serve as an officer in both Bio club and the Pre-Medical Society, and I'm a member of the Golden Keys International Honour Society and Psi Chi. I really love being a part of different clubs because I like to meet different people and  learn new perspectives, and I also enjoy helping to improve students experiences here in the College of Science and Math. I am honored to be a part of the Dean's Circle, and I  look forward to doing my part to contribute to our college! Also, the personalized polo's are a nice touch.
Allison Felkley
I am Allison Felkley, a current junior at Wright State University in the College of Science and Mathematics. After two full years of studying under the Science and Mathematics staff I have realized that I couldn't have chosen a more perfect place to attain my biology degree. Through Wright State I have gotten to take advantage of wonderful opportunities outside of the classroom including being a peer instructor, a member of the Golden Key Organization and joining the Dean's Circle for the College of Science and Mathematics. After I graduate I plan to go back to school to study physical therapy.
Ben Hamilton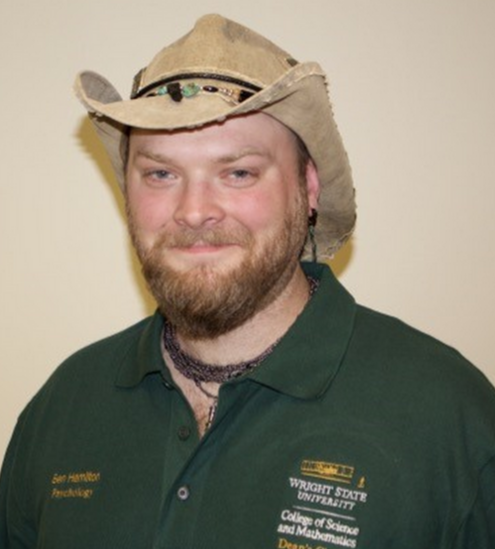 It has always been a passion of mine to make sure everyone feels like they have a place to belong. Encouraging fellow students to get involved, not only in their education, but also in the various groups and organizations found around campus is an important part of who I am. In addition to being active in various academic groups I hold a director's position with the Wright State radio station WWSU and a Senate seat with the Student Government. 
Josh Jordan
I am Josh Jordan. I'm a junior math and physics major in the Dean's Circle. Right now, I'm interested in just about anything to do with either. I hope one day to become a mathematician or mathematical physicist and do research--preferably for a university. In my free-time, I enjoy reading science fiction and, on occasion, writing. I decided to go out for this position because I want to help make everyone's college experience enjoyable, so, if you see me in the halls, let me know how you're doing. I'm also all too happy talk about math, books, or just about anything.
Stephanie Kenzig
My name is Stephanie Kenzig and I am a senior majoring in Psychology with a concentration in Behavioral Neuroscience. My goals in life are to become a Clinical  Psychologist, a foster mother and do philanthropy work. I currently work as a Teaching Assistant for the Intro Psychology class, as a tutor, and have an internship at WPAFB. I am also the President of Psychology Club and involved in Golden Key Society, National Hall Honorary, and the National Society of Leadership and Success. I am also currently working on my Honors Thesis Project with Dr. Gary Burns where we are studying correlations between personality, coping styles and cortisol changes. I look forward to giving back to the College of Science and Mathematics as a Dean's Circle member.
Kimiko Kidd
Hey there! My name's Kimiko Kidd, I'm an Earth and Environmental Science major, with a concentration in Environmental Science, and I'm minoring in Sociology. In addition to being a member of the Dean's Circle, I'm also the president of the Sociology club, and I volunteer with Five Rivers Metroparks. After graduating, I'm aiming to pursue a Master's degree and Ph.D., and a career in both academia and wildlife management. Science is my passion, and I love to speak at outreach events and connect with prospective students. I'm thrilled to be a member of the College of Science and Mathematics Dean's Circle, and I hope to contribute as much as I can to the ongoing success of Wright State's science and math department! 
Stephanie Lake
Hi, my name is Stephanie Lake and I'm currently a fourth year dual physics and math major. Ways I've made the science and math stick in my head are through my past varied jobs: I've been a teaching assistant for several physics and calculus courses, grader for hundreds of students, and education research assistant supporting physics faculty plan lectures. Not only have they helped me retain knowledge, but they also are great opportunities to ease others into STEM and show technical fields don't have to be intimidating! As my WSU career ends up and my future one begins, I hope to enter graduate school and model everyday (but complex) physical phenomena. Please, if you are a CoSM student and have questions to ask or suggestions to make, speak to me about it!
Emillie Partridge
Hello! My name is Emillie Partridge and I am a junior and a commuter at Wright State University. I am pursuing an honors degree in Chemistry with a pre-med emphasis. After graduation I hope to go to medical school and become a pediatrician. I enjoy volunteering at a free clinic and working with kids. I am in the National Society of Collegiate Scholars and look forward to serving on the dean's circle for the next two years. I am easy to talk to and here to represent you. So, if you have any questions or concerns please don't hesitate to talk to me!
Filip Polenakovik
Hi, my name is Filip Polenakovik and I am currently a junior at Wright State majoring in Biology with a pre-med track. I am interested in attending the Boonshoft School of Medicine after my undergraduate studies. On campus, I work as a laboratory prep in the freshman chemistry labs. I recently joined the National Society of Collegiate Scholars and am a member of several other organizations such as biology club, pre-med club, and MAPS. Off campus, I am a volunteer at Miami Valley Hospital and also volunteer in a research lab at the hospital, working with adipose stem cells. I am thrilled to be part of the CoSM Dean's Circle!
Zara Qureshi
My name is Zara Qureshi and I am a junior majoring in Psychology and minoring in Spanish. I love learning about the human mind and have had a great academic experience at Wright State so far. I am passionate about helping others and plan on attending graduate school to receive a Master's degree in an area of psychology. I am currently a volunteer at St. Leonard's Senior Living Community. I also enjoy reading (a lot), writing, and making digital art. I am so excited to be a part of the Dean's Circle and look forward to helping out students in the College of Science and Math. I'd be happy to answer any questions or take any suggestions you may have!
Mitchell Schneider
Hello Everyone!  I'm Mitchell Schneider, a sophomore studying Mathematics and Physics.  My ultimate aspiration would be to obtain my PhD in theoretical particle physics and teach at a university.  I have always had a love of mathematics and all earth sciences since a very early age;  acquiring a large rock collection with specimens from all over the world, growing plants from seed, gardening, and rehabilitating sick or injured orchids.  I am an advocate for 'unseen" disabilities and would like to advance the cause of these students that wish to study in the STEM fields, especially those in the course of science.  I hope also to grow Wright State University's popularity from being known as a revered local college to the outstanding educational shining star it should be known for throughout the entire state of Ohio and beyond. 
Student Senator
My name is Madelyn Jones and I am a senior student studying biology; I am pursuing a graduate degree in neuroscience upon completion of my undergraduate degree. I currently serve as the Senator for the College of Science and Mathematics for Wright State University. In my position, I work towards resolving any issues that students of the college may have, I serve as a liaison between the students, faculty, staff, and the dean of the college, and I represent my college in meetings of the university. Additionally, I am highly involved in many organizations on campus, volunteering in the community, and scientific research. One may typically find me roaming the halls in the new Neuroscience Engineering Collaboration building or bustling around the biology buildings conducting my research on any given day! I love getting to know other students within the college and I like helping them reach their goals. Feel free to reach out to me if you have any issues, concerns, or would like to become more involved within the College of Science and Mathematics!