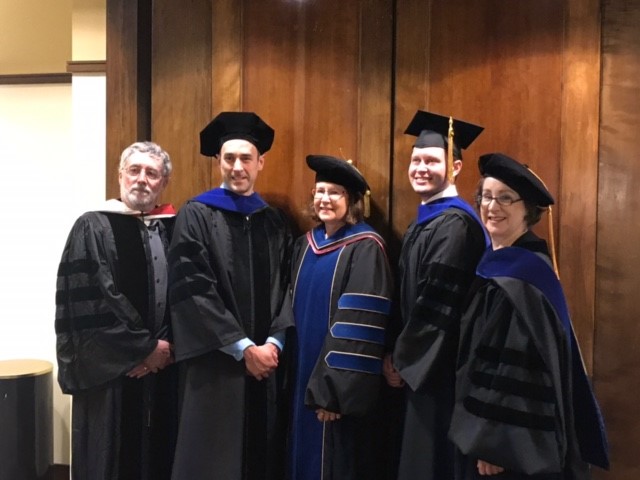 Started in 1979 with the Master of Arts degree in Human Factors, offered through the multidisciplinary Applied Behavioral Sciences program, we now offer both Master of Science and Doctor of Philosophy programs in Human Factors and Industrial Organizational psychology.  Our unique Graduate Program provides students a solid grounding in both Human Factors and Industrial Organizational psychology. The program emphasizes that both specialties work best together to produce results that neither specialty could achieve alone. Students in both the Master of Science and Doctor of Philosophy programs complete traditional specialization in either human factors or industrial organizational psychology, and the second area serves as a minor area of focus and our program is designed to foster an understanding of the relationships between both specialties.  Students are prepared for this collaboration by learning the fundamentals of each specialty then interacting with one another in a wide variety of research settings. The goal is a multidimensional education that prepares students for careers in business and industry as well as research, teaching, government, and consulting.
Our graduate degree programs place a heavy emphasis on research that is focused on but not limited to:
Workload and attention
Virtual Environments
Personality and stess assessment
Job performance and assessment
Cognitive development and aging
Visual and auditory processes
Aviation, medicine, and driving
Human-Computer interaction
Decision making and expertise
Training and motivation
In addition to the Human Factors and Industrial Organizational Psychology programs, our department also have many faculty who participate in the Neuroscience track of Wright State's interdisciplinary Biomedical Sciences Ph.D. program.
The HFIO program also collaborates in the Technology-based Learning with Disabilities Specialization (LwD). The LwD program is an interdisciplinary program to study technologies to support learning for students with disabilities. This program has support through NSF's Integrated Graduate Education and Research Traineeship (IGERT) program and offers Fellowships for qualified students who are interested in pursuing research in the fields of disability and assistive technologies.
For more information about the Human Factors and Industrial/Organizational Psychology please visit these pages:
January 1 is the deadline for receipt of all application material for admission for the following Fall semester. 
Contact Graduate Program Administrator Dr. Pam Garverick (pamela.garverick@wright.edu) or Graduate Program Director Dr. Scott Watamanuik (scott.watamaniuk@wright.edu) for more information.