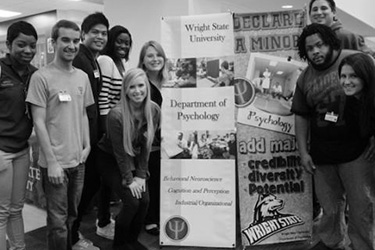 The Wright State University Department of Psychology offers both undergraduate and graduate programs of study.  We have a strong reputation as a science-based program that appreciates both the value of sound methodology and theory and the need to apply and test theory against practical problems of everyday life. We offer the BA and BS degrees at the undergraduate level and we offer both the MS and the Ph.D. degrees in Human Factors and Industrial Organizational Psychology.  We want you to be successful and we provide a support structure of faculty, staff and fellow students, so in the Department of Psychology you are not alone.
Undergraduate
Advising
Our Psychology Undergraduate Program(PUP) Office provides advising for undergraduates majoring in psychology. If you are thinking about majoring or minoring in psychology you can contact the PUP office and they can help.  You can make an appointment to meet with an advisor in the Psychology Undergraduate Program (PUP) Office by visiting us in 335 Fawcett Hall, or calling (937) 775-4155.
Graduate
Advising
For more information contact:
Pam Garverick, Ph.D.
Fawcett Hall 335, 3640 Colonel Glenn Hwy., Dayton, OH 45435-0001
937-775-3832