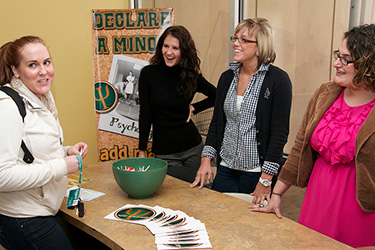 Declare a Minor in Psychology
and
Earn Major Creditability!

How to think about your career and job opportunities with an undergraduate degree in psychology
An undergraduate education in psychology at Wright State provides a strong foundation in psychological theory, research, data management, and statistical analysis. It also provides the opportunity to develop valuable communication skills, both oral and written. With these insights and highly marketable skills, psychology majors have the flexibility to pursue jobs and careers in which these needs exist.
Where can you apply your undergraduate degree in psychology?
There are currently over 50 divisions recognized by the American Psychological Association (APA), each associated with different topics areas. Consider applying what you'll learn as a psychology major to one or more of these areas. Visit the the APA website for more information.
Graduate or Professional School
Some careers may require additional education beyond the undergraduate degree. Wright State offers a number of graduate programs (M.A., M.B.A., M.D., Psy.D., or Ph.D.) that may be of interest to you and your career goals. Talk with an academic advisor in the Psychology Undergraduate Program (PUP) Office to find out if graduate or professional school can help you with your long-term career goals.
Visit the Psychology Undergraduate Program Office webpage to learn more about career planning.