BioLogue: Departmental Newsletter
Change You Can Believe In?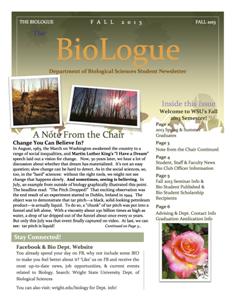 In August, 1963, the March on Washington awakened the country to a range of social inequalities, and Martin Luther King's "I Have a Dream" speech laid out a vision for change.   Now, 50 years later, we hear a lot of discussion about whether that dream has materialized.  It's not an easy question; slow change can be hard to detect. As in the social sciences, so, too, in the "hard" sciences:  without the right tools, we might not see change that happens slowly.  And sometimes, seeing is believing.  In July, an example from outside of biology graphically illustrated this point.  The headline read:  "The Pitch Dropped!"  That exciting observation was the end result of an experiment started in Dublin, Ireland in 1944.  The object was to demonstrate that tar pitch—a black, solid-looking petroleum product—is actually liquid.  To do so, a "chunk" of tar pitch was put into a funnel and left alone.  With a viscosity about 230 billion times as high as water, a drop of tar dripped out of the funnel about once every 10 years.  But only this July was that event finally captured on video.  At last, we can see:  tar pitch is liquid!