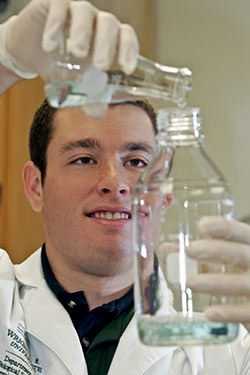 The Department of Biological Sciences offers programs leading to a Bachelor of Science or a Bachelor of Arts degree in Biological Sciences, or a Bachelor of Science in Clinical Laboratory Science. Programs can be tailored for specific interests, ranging from a concentration in applied physiology to preparation for medical school and other professional careers in Health Sciences. In addition, our Minor program incorporates a flexible choice of biology courses for those students in other departments who wish to focus some of their studies onto the field of biology. Students who wish to teach biology or chemistry in Ohio public high schools can now pursue the B.A. or B.S. degree in biological sciences, and then upon completion enter the Professional Educators Program Master of Education degree through Wright State's College of Education and Human Services.
The teaching and research programs of the department are conducted in modern, well-equipped classrooms and laboratories. A 200-acre biology preserve on campus and nearby parks and preserves, such as the Beavercreek Wetlands, provide excellent opportunities for terrestrial and aquatic field studies. 
Students are strongly encouraged to plan their individual programs of study with the help of a departmental advisor to be sure they are meeting university, college, and departmental requirements. Biology students are also encouraged to participate in hands-on, faculty-guided, independent research projects in their academic programs.