Overview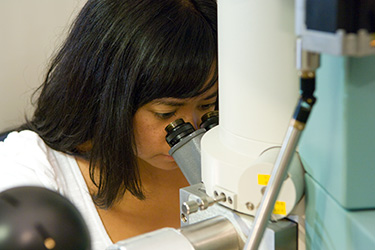 Microbiology and immunology are recognized specialties in consistent demand by corporations, government, education and research organizations. The Microbiology and Immunology Master of Science Program is indispensible for students focusing on careers in these areas and ideal for those who wish to study medicine, dentistry or veterinary science.
Areas of specialization include:
Molecular genetics
Microbial physiology
Immunology
Human neutrophils
Host immunology/parasite relationships
Microbial ecology
Immunotoxicology
Immunoparasitology
DNA and conventional vaccine development
Retrovirology (HIV)
Environmental microbiology
Indoor allergens
Inflammation
Virology
Participating faculty are from various departments in the College of Science and Mathematics. Admission and registration information are available through the Graduate School. For more information regarding pre-professional programs, contact the pre-health advisor.
Admission
Admission and registration forms and procedures are available through the Graduate School.
The applicant should have taken a distribution of undergraduate courses in biological sciences, chemistry, physics and mathematics that would support his or her anticipated graduate study.
 
Students are required to submit three letters of recommendation from individuals who can evaluate the applicant's ability handle graduate-level course work and research. Recommendations should reflect professors' knowledge of the applicant's undergraduate performance in the sciences and/or from the student's work. The recommendations should describe the applicant's competence in understanding and performing work in a science-related area and reflect the ability of the candidate to accomplish the graduate level work in microbiology/and immunology.
 
A personal statement summarizing the applicants interests in the fields of Microbiology and Immunology is required.
 
Students are strongly encouraged to enter into the program only in the Fall Semester, although admission is permitted at other times in exceptional circumstances.
 
A part-time graduate student can take course work in the program at any time, but will not be accepted into the program as a degree candidate until a faculty member has agreed to supervise his/her research.
 
International students with a GPA of less than 3.0 are required to submit GRE scores. While not required, other applicants are encouraged to provide GRE scores. These scores may be used to make Admission decisions when the GPA is below 3.0.
 
Non-English-Speaking international students must pass the oral proficiency test administered by the Department of English before starting the research or teaching portion of their program.
 
International Students should contact the University Center for International Education when applying to Wright State University.
Degree Requirements
Students may choose between a research-based thesis option and a non-research based thesis option. Both options require completion of a minimum of 30 semester hours. For both options students must take BMB 7500 and 7520, for a total of six semester hours, and M&I 7260 for four semester credits. All students must also take two seminars with an M&I prefix, for a total of four semester credits. If a student is uncertain of a major area of concentration, the program director will serve as a temporary advisor until the student selects an area and is accepted by an advisory professor.

Research-based Thesis Option: students must take an additional didactic course with a minimum of three semester credits in M&I or one of the life sciences departments. The remaining thirteen semester credits may be taken in a combination of M&I 6990, M&I 8990, and other didactic courses. For the research option, students must complete a research project under the direction of an affiliated faculty member. The student must write and defend a formal thesis based on this research project.

Non-research Thesis Option: students must take an additional six semester credit hours M&I and other life science departments. The remaining 10 semester hours may include M&I 6990 and 8990. The non-research based Master's student is required to do an extensive, critical review of the primary literature in a specific area; this review will include an oral presentation of the review. As an alternative, the student could prepare and defend a proposal in a specific research area.
Financial Assistance
Two graduate teaching assistantships are available on a competitive basis. These carry a waiver of most tuition and instructional fees. Appointments are made for one year and may be renewed for a second year.
For more information, contact:
Dr. Barbara Hull, Director
Microbiology and Immunology M.S. Program
209 Biological Sciences Hall
Wright State University
3640 Colonel Glenn Hwy
Dayton, OH 45435-0001
(937) 775-2532
FAX: (937) 775-3320
barbara.hull@wright.edu
Faculty
Faculty members contributing to the program come from the Departments of Biological Sciences; Neuroscience, Cell Biology and Physiology; and Pharmacology and Toxicology.
Many of the faculty have, or have had, federal (including NIH, NSF, and EPA) and corporate grants to support their research, and they regularly publish the results of their research in high-quality journals.
Facilities
The Microbiology and Immunology program has excellent ancillary facilities on campus which include
Specialized cell and tissue culture facilities
Constant temperature rooms and coldrooms
Animal care facilities
Darkroom capabilities
Equipment includes
Fluorescent microscope
Flow cytometry
Electrophoresis
PCR thermocoupler
Laminar flow safety cabinets
Transmission and electron microscopes
Mass spectrometer