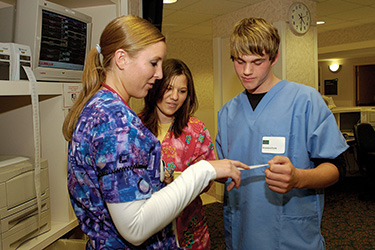 Physician Assistants (PA) are licensed health professionals academically and clinically prepared to provide health care services with the direction and responsible supervision of a doctor of medicine (M.D.) or osteopathy (D.O.). PAs are capable of delivering a variety of health care services, including physical exams, diagnose and treat illnesses, order and interpret tests, prescribe medicine, assist in surgery, and counsel on preventive health care. However, it is important to note that the level of responsibility is based on experience and education by the individual, as well as state law.
Physicians Assistant Fast Facts   Printable (PDF)
Download: 2013 AAPA Physician Assistant Facts (PDF)
Download: 2013 AAPA Physician Assistant Vital Statistics (PDF)
Choosing Physician Assistant as a Career
The PA profession has only been in existence since the mid-1960s and is still considered a "new" profession. Because of the overwhelming shortage of health care providers (specifically, family practitioners) projected in the near future, PAs are being trained to provide health care services to diverse populations in rural, suburban and urban settings. In fact, it is consistently being projected that the PA profession will be one of the fastest-growing occupations in the next decade, growing by 30% (Bureau of Labor Statistics, or BLS).
There are many reasons students choose physician assistant as a career:
Excellent income: according to the BLS, the median annual income for full-time clinically practicing Physician Assistants in 2014 was $95,820.
Satisfying professional career: increased flexibility; most PAs work in physicians' offices, clinics, and hospitals
Career outlook is good: one of the fastest-growing occupations of the decade.
Fewer years of education: PA programs are currently transitioning to the master's level and are on average 27 months of post-baccalaureate training in an accredited PA program
Predominantly female: the proportion of enrollees who are female continues to rise, a continuous trend over the past decade
Essential partners in America's health care workforce: with a shortage in health care providers, health care services are being provided by physicians, PAs and other providers in a teamwork effort
Anticipated additional responsibilities: medical professionals are anticipating future opportunities for PAs, such as clinical trial researchers, educators of PAs, business partners or practice co-owners, epidemiologists, health care advisors, PA executives or administrators, or public health directors
Statistics
To date, there are currently 83,000 practicing physician assistants (PAs). Many PAs work in the primary care fields, such as family/general practice medicine, general internal medicine, obstetrics/gynecology, and general pediatrics. Others work in general surgery or a surgical subspecialty. Physician assistants work in a variety of career settings. The majority work for physician offices, hospitals or clinics. Others work in extended care facilities, correctional facilities, or with Health Maintenance Organizations.
There are 139 accredited U.S. physician assistant programs (Accreditation Review Commission on Education for the Physician Assistant, ARC-PA) that graduate 4,600 individuals annually. The average number of seats for each program is between 45-50, with an average length of 27 months. PA programs have transitioned from the associates' level, to the bachelor's level, and now are at the master's level. Currently, over 90 PA programs award master's degrees or provide a graduate degree option. Ohio currently has five PA programs awarding the master's degree: Kettering College of Medical Arts, University of Toledo, Marietta College, University of Findlay, and Cuyahoga College/Cleveland State University.
For more information on physician assistant program admission statistics, please visit the Physician Assistant Education Association (PAEA) website.