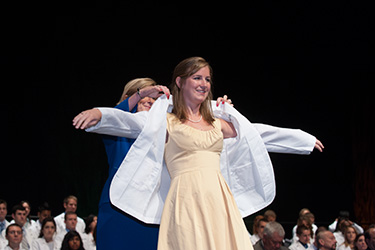 Physicians are licensed practitioners who perform medical examinations, diagnose illnesses, treat people who are suffering from disease or injury and advise patients on maintaining good health (www.bls.gov). They may be general practitioners or specialists. There are 24 specialty boards; the largest medical specialties include internal medicine, family medicine, general surgery, obstetrics/gynecology, psychiatry, pediatrics, radiology, anesthesiology, ophthalmology, pathology, and orthopedic surgery. Medicine is both an art and a science; therefore, a physician must develop the skills to interact with a patient, obtain a medical history, conduct and interpret diagnostic and laboratory studies, and develop a comprehensive diagnosis and treatment plan. Physicians work long hours, often with unpredictable schedules. A physician is committed to a lifetime of learning and helping others.
Pre-Medical Fast Facts   (Printable PDF)
Want to take a peak at what kind of people were accepted to WSU Boonshoft School of Medicine in 2013? Med-Student Profiles
Choosing Medicine as a Career
The medical profession seeks a diverse mix of individuals interested in pursuing medicine as a career. The number of women applying to medical school continues to increase and in recent years, has represented approximately half of all applicants and matriculants each year. Students from racial and ethnic groups that are underrepresented are strongly encouraged to consider a career in medicine. In addition, there has been an increase in the number of older and "nontraditional" individuals pursuing medicine later in life, or as a second career.
The majority of physicians work in an office setting either in solo practice or with a team of physicians. Others work in academic settings, outpatient clinics, hospitals, research, or for the military or government. Most medical students graduate after 4 years of medical school ("undergraduate medical education") and enter residency programs ("graduate medical education") that range from 3 to 8 years of additional training.
Ohio has seven medical schools which include: Case Western Reserve University (private); The University of Toledo College of Medicine; Northeastern Ohio Universities Colleges of Medicine; The Ohio State University; University of Cincinnati; Wright State University; and Ohio University (D.O.). 
There are many reasons students choose medicine as a career:
Excellent Salary: average compensation for a physician is between $221,429 and $443,859 depending on area of specialization.
Rewarding Career: to be a "doctor", one must also be a "teacher". Physicians educate his/her patients and promote healthy lifestyles. The care of a patient throughout the lifespan is a privilege that requires complete dedication and commitment from a physician
Future Job Outlook: the Bureau of Labor Statistics (BLS) projects that employment for physicians and surgeons will grow faster than the average for all other occupations through the year 2014.
Commitment to a Lifetime of Learning: medicine continues to evolve as new research is completed and new findings are incorporated into everyday medical practice. A physician must continue to learn throughout their lifetime and be intellectually curious of the changing world around them.
Role Model in the Community: many people view physicians as role models and look to them for advice, guidance, and assistance. Practicing physicians speak of the privilege they feel in being permitted to care for patients and to be of service to the community.
Statistics
There are approximately 821,000 allopathic physicians in the United States today. In addition, there are another 59,000 fully licensed osteopathic physicians. Many of these physicians work in primary care (family medicine, internal medicine, pediatrics). Others specialize in obstetrics/gynecology, psychiatry, various medical specialties (e.g., dermatology, cardiology, gastroenterology, neurology), general surgery or various surgical subspecialties, support specialties (e.g., anesthesiology, pathology, and radiology), emergency medicine, and other clinical areas.
Fall 2014 Entering Class Data
Total Applicants: 1,744
Total Matriculants: 798
Average MCAT score: 500
Average GPA: 3.58
Average Science GPA: 3.47
For more information on medical school admission statistics, please visit the Association of American Medical Colleges website or the American Association of Colleges of Osteopathic Medicine website.
Relevant Websites
Medical School Admissions Requirements (MSAR): published annually by AAMC. This publication provides latest available information on selection criteria for each medical school. The book is available for purchase through the AAMC website, or can be found in the school library or the Pre-Health Advisor's office.
MCAT Essentials: available as a PDF document from the AAMC website.
Exam Krackers: MCAT exam preparation
Student Doctor: information and feedback from applicants; chatroom www.interviewfeedback.com
Kaplan: MCAT exam preparation and courses
Princeton Review: MCAT exam preparation and courses
www.tomorrowsdoctors.org: a comprehensive website for those considering a career in medicine.
www.aspiringdocs.org: information for persons from underrepresented populations who are considering a career in medicine
American Medical Association: Provides information about becoming a physician, how to prepare for and apply to medical school, and choosing a specialty.
Writing for Success: Preparing a Professional School Application: a booklet written specifically to help applicants best present themselves to medical schools. The booklet can be purchased at www.naahp.org
Interviewing for Health Professions Schools: a booklet offering information that helps students prepare for the interview. The booklet can be purchased at www.naahp.org
Health World: alternative medicine
National Institutes of Health: medical news, career opportunities, research
www.ExploreHealthCareers.org Sponsored by the American Dental Education Association, it provides about all health-related occupations.
Health Professions Admissions Guide: Strategy for Success. www.naahp.org