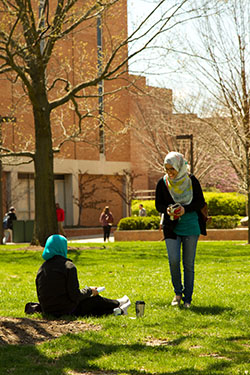 When you first get to college, things might seem large and overwhelming. Getting involved in campus activities helps build an instant social network and connects you with students who have similar interests. It's also a great way to become well-rounded and build a portfolio for employment or graduate school. Demonstrating that you're a go-getter, leader and team player are characteristics many employers look for (…believe it or not, it's not all about your academics!). 
There's truly something for everyone in college. College students can take advantage of the wide variety of programs offered to prepare for a career in healthcare. Whether it's joining a student club, shadowing a healthcare provider, working a part-time job, studying abroad or participating in community service, it's important to find something you're passionate about. It's also important not to overextend yourself and lose focus on your academics. 
While intellectual capacity is still very important to the success of a healthcare provider, the ability to develop and maintain relationships with their patients is also critical. It is vital for students to: 
make ethical decisions
demonstrate compassion,respect, honesty, sensitivity, and integrity
work collaborative and as a team player
commit to lifelong learning and be able to critically analyze problems
advocate for their patients
be a leader and role model to others
serve those in need 
It's not about the number of things you participate in but about the quality of your involvement and the experience you receive. Developing interpersonal skills, discipline, compassion and teamwork will better prepare you as a healthcare provider. You should get a good understanding of the roles and responsibilities of a given career which will allow you to make a well-informed decision regarding your career path.
Extracurricular activities are important in building a well-rounded application for admissions. At Wright State, students can participate in community service, undergraduate research, leadership and development programs, teaching and tutoring, student organizations, and mentoring. 
Like us on Facebook to see additional events and the inside scoop on deals