Learning Communities for First-Year Students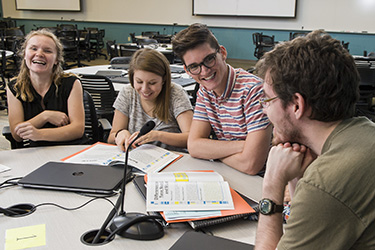 A learning community is a small group of first-year student who take two or more classes together. These courses involve active learning and help students transition into their first year of college.  Students enrolled in learning communities receive personal attention and mentoring from a peer instructor, staff, or faculty member.  In addition, they build a network of friends with classmates who have similar interests which in turn helps develop study groups, lowers the stress levels during the first semester in college and helps with adjusting to college.
Courses
Learning community courses often help guide the student in learning about campus programs and services. For example, students will learn skills in note taking, study strategies, time management and financial planning. In addition, they will learn the basic skills of calculating your grade point average, accessing your degree auditing reporting system, registering, selecting classes and connecting with their academic advisor. 
Courses for Pre-Health Students
Wright State offers fifty different kinds of Learning Communities, some based on common academic or career interests. There are two learning community courses for students interested in pursuing a career in health care:  (1) UH 1010 (for Honors Students) and (2) UVC 1010 (for non-Honors students). In addition to covering the basic college transitioning skills, these courses also provide a general overview of the health professions, including their requirements, admission statistics and application timelines.  
Registration
If you're interested in registering for a learning community course, you must indicate so on your Orientation survey. Classes fill up fast, so make sure to get your information in early.
Visit the First-Year Programs webpage for more information.