On this page:
Overview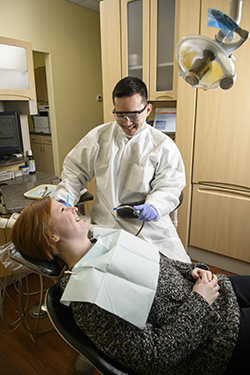 The opportunities and responsibilities that exist for dentists this time of change in health care delivery make dentistry one of the most exciting, challenging and rewarding professions. It is projected that careers in dentistry will increase significantly over the next 10 years. There are many reasons for pursuing dentistry as a career, including control of time, service to others, self-employment opportunities, income potential and art of working with your hands. To become a dentist, one must obtain either a Doctor of Dental Surgery (D.D.S.) or Doctor of Dental Medicine (D.M.D.) to be certified to practice. There are currently 75 dental schools in the United States that grant the D.D.S. or D.M.D. degrees.
Career Options
A career in dentistry has two key components: what the dentist does and how s/he does it. The "what" refers to the specific field of dentistry in which he or she practices and the "how" refers to the type of practice itself. These components offer many options for fulfilling professional and personal goals. Clinical Fields include General Dentistry, Dental Public Health, Endodontics, Oral & Maxillofacial Pathology, Oral & Maxillofacial Radiology, Oral & Maxillofacial Surgery, Orthodontics & Dentofacial Orthopedics, Pediatric Dentistry, Periodontics and Prosthodontics. Practice options and other professional opportunities include Self-Employed in Private Practice, Practice as a Salaried Employee or Associate, Academic Dentistry and Dental Education, Dental Research, Service in Federal Government, Public Health Care Policy, and International Health Care.
Seventy-five percent of individuals who choose to attend dental school either do so during or after college. Only a quarter of graduating dental students indicate that they intended on pursuing a career in dentistry before they actually entered college.
Perks of the Profession
It is projected that careers in dentistry will increase greatly over the next 10 years. Currently 90% of dental school graduates are in private practice (solo or groups), 80% are generalists and 20% are specialists. The median income for 2018 was $156,000 per year.
There are many reasons students choose dentistry as a career:
Excellent income: the mean annual net income of general dentists in private practice is more than $185,000 and over $315,000 for specialists
Satisfying professional career: many dentists enjoy the independence and autonomy of owning their own practice and the flexibility of determining their practice hours (thus allowing more time for personal life)
Dentistry is viewed by the public as one of the most trusted and ethical professions in the U.S.
Career outlook is good. New dentists are needed in private practice, as teachers and researchers in public health.
The dental profession seeks to increase the number of underrepresented. Currently, only 16% of all professionally active U.S. dentists are female, with more women entering dental school than ever. In addition, approximately 7% of all professionally active U.S. dentists are underrepresented minorities.
To date, there are currently 175,000 practicing dentists. Most active dentists (92%) are general practitioners, while others are recognized as specialists in one of nine areas: (1) orthodontics and dentofacial orthopedics; (2) oral and maxillofacial surgery; (3) endodontics; (4) periodontics; (5) pediatric dentistry; (6) prosthodontics; (7) oral and maxillofacial pathology; (8) dental public health; (9) oral and maxillofacial radiology.
The majority of dentists work in an office setting either in solo practice or with a team of dentists. After receiving a doctoral degree in dentistry, either a Doctor of Dental Surgery (D.D.S.) or a Doctor of Dental Medicine (D.M.D.), a dentist generally enters private practice immediately.
At least 66 U.S. and 10 Candadian dental schools will be accepting applications to the first year of their Doctor of Dental Medicine (D.M.D.) or Doctor of Dental Surgury (D.D.S) programs in 2016-17.1 Ohio has two dental schools: The Ohio State University and Case Western Reserve University.
2018 Entering Class Applicants & Enrollees

|   | Total | Men | Women | Gender Not Report | Avg. Science DAT | Avg. Perceptual DAT  | Avg.  DAT | Avg. Science GPA | Avg. Total GPA |
| --- | --- | --- | --- | --- | --- | --- | --- | --- | --- |
| Applicants | 11,298 | 47.0% | 52.5% | 0.1% | 19.3 | 19.4 | 19.4 | 3.27 | 3.40 |
| Enrollees | 6,163 | 48.7% | 50.5% | 0.7% | 20.4 | 20.1 | 20.5 | 3.45 | 3.55 |
For more information on dental school admission statistics, please visit the ADEA website.
Download the Dentistry Fast Facts (PDF)
---
Pre-Dentistry at Wright State University
Wright State University provides students with the necessary course requirements for admission to any dental school in the United States. In addition, all required courses are offered two to three times a year to accommodate students' schedules.
While most students wishing to enter a health sciences career pursue a degree in Biological Sciences, professional schools encourage diversity. Students can major in any discipline and include the required pre-professional courses within their program of study. An advisor is available to assist students in developing a program of study.
---
Core Pre-Requisites
The Ohio State University
General Biology: BIO 1120, 1150
Microbiology: BIO 3100/3110
Human A&P: ANT 3100, 3120
General Chemistry: CHM 1210, 1220
Organic Chemistry: CHM 2110, 2120
Biochemistry: BMB 4210, 4230
General Physics: PHY 1110
English: ENG 1100, 2100
Case Western University
General Biology: BIO 1120, 1150
General Chemistry: CHM 1210, 1220
Organic Chemistry: CHM 2110, 2120
General Physics: PHY 1110
Additional Recommended Courses
Cell Biology: BIO 2120
Genetics: BIO 2110
Vertebrate Histology: BIO 4430
Immunology: M&I 4260
Basic Accounting, 3-D Art or Engineering Graphics, 

Humanities & Social Sciences
Most Dental programs require that students complete 3 years of undergraduate education that includes the following:
One year of General Biology with labs (BIO 1120, BIO 1150)
One year of General Chemistry with labs (CHM 1210, CHM 1220)
One year of Organic Chemistry with labs (CHM 2110, CHM 2120)
One year of Physics with labs (PHY 1110, PHY 1120)
One semester of Psychology (PSY 1010)
In addition, recommended courses include:
Human Anatomy & Physiology (ANT 3100, ANT 3120)
Biochemistry (BMB 4210, BMB 4230)
Microbiology (BIO 3100/3110)
Public Health (BIO 1080)
Ethics
It's important to research individual dental programs for specific requirements. Contact the pre-health advisor for assistance.
---
What Makes a Competitive Application?
Dental schools consider many factors when deciding which applicants to accept into their programs. Using "whole" application review, admissions committees assess biographical and academic information provided by the applicant and by the undergraduate and graduate schools the applicant attended. These committees generally assess the applicant's results from the DAT, grade point average, extracurricular activities, letters of evaluation and interviews.
A competitive science GPA for dental school admission is 3.5-3.6 with an overall GPA of 3.6-3.7. Average DAT scores for dental school enrollees ranges from 19-20 in both academic and perceptual.
---
Dental Admissions Test (DAT)
Students interested in dentistry must take the Dental Admissions Test (DAT) in the spring of the year prior to admission. The DAT is designed to measure general academic ability, perceptual ability and comprehension of scientific information. This halfday, multiple-choice exam is administered on the computer around the country on almost any day of the year. Candidates for DAT should have completed pre-requisite courses in biology, general chemistry, and organic chemistry. The American Dental Education (ADEA) strongly encourages students to prepare for the DAT by reviewing the content of the examination, reviewing basic principles of biology and chemistry, and taking practice exams. The exam consists of four separate parts:
Natural Sciences (biology, general chemistry, and organic chemistry)
Perceptual Ability (2, 3-D problem-solving)
Reading comprehension (dental and basic sciences)
Quantitative reasoning
The Dental Admission Test (DAT) is administered through the American Dental Association. This is the exam required for everyone interested in pursuing a career in dentistry. It is comprised of 4 parts:
Natural Sciences: Biology, General Chemistry, Organic Chemistry
Perceptual Ability
Reading Comprehension: 3 reading passages
Quantitative Reasoning: Algebra, Conversions, Probability & Statistics, Geometry, Trigonometry
Individuals applying for the DAT may designate as many dental schools as they wish to have their scores sent. By indicating the schools to which the applicant wants scores sent, those scores will be posted on a secure website for each dental school to view directly from the ADA. DAT scores are automatically imported into the ADEA AADSAS application (and sent to the dental schools designated in the AADSAS application) as long as the applicant has indicated at least one AADSAS-participating school in their DAT registration.
For more information on the DAT, visit www.ada.org
Helpful Study Materials for the DAT
---
Dental Programs in Ohio
The Ohio State University
3rd largest public dental school
Consists of 8 academic units representing all major dental specialties
Class size 104 students; ~75% are from Ohio
4-year program of study leading to a D.D.S.
An applicant must compete a minimum of 90 quarter hours or 60 semester hours including prerequisites at an accredited four-year institution
Two-thirds of the prerequisites courses must be completed at the time the AADSAS application is submitted. Prerequisite science course may not be completed online or via distance learning and may not be audited
Case Western
Dental profession evolving into something closer to a physician specializing in oral health
Class size is around 70 students
4-year program of study leading to a D.M.D.
---
Frequently Asked Questions
When should I apply to dental school?

Applications to dental school become available in mid-May for the next entering class. Each dental school has its own application deadlines, which range from September 1 to February 1. Applicants are strongly encouraged to apply early. Dental schools begin receiving applications in June, and generally begin interviews in August and September.

How do I go about applying to dental school?

All students interested in applying to dental school must submit a centralized application through the Associated American Dental Schools Application Service (AADSAS). Applicants submit a primary application through AADSAS; transcripts are verified, grade point averages are calculated, and AADSAS sends a standard application packet to each of the dental schools designated by the applicant. Few dental schools do not participate in AADSAS and if a student is applying to one of these schools, they must send their applications directly to the individual dental school.

AADSAS applications can take up to 4-8 weeks to process. Many dental schools also have supplemental applications and fees that must be submitted to consider the application complete. Applicants can view the Official Guide to Dental Schools resource book to be familiar with the dental schools. Applicants are encouraged to apply to more than one dental school.

What is an acceptable DAT score?

Each dental school is different. The Official Guide to Dental Schools lists competitive DAT and GPAs for a particular school. Applicants are encouraged to be familiar with the format and the subject content of the test before sitting for the test.

Are sample tests available?

A sample test is available at the ADA website.

Students can also purchase study materials and/or courses to help prepare for the DAT. Please see the Pre-Health Advisor for literature regarding these materials and courses. It is important to remember that to do well on the DAT, a considerable amount of time (several weeks to months) should be reserved for studying material on a daily basis.

How many letters of evaluation are required for dental school?

Most dental schools required 3-4 letters of evaluation or recommendation. At Wright State University, there are two methods for compiling and submitting letters of evaluation: (1) a composite letter submitted by the health professions advising office, and (2) individual letters of evaluation sent to the application service (or directly to the dental schools). A composite letter consists of a collection of individual letters of evaluation that are collected by the health professions advising office and supplied to the application service under a cover letter from the Pre-Health Advisor.

Dental schools prefer at least 3 faculty evaluation letters, with two from science faculty. A letter of support from a dentist is strongly recommended.

What is the dental school interview like?

Only applicants that are seriously being considered for matriculation are generally invited for an interview. Applicants will be expected to discuss their motivation for dentistry, their personal and professional goals, and their assessment of current oral health issues. Interviewing formats vary and can either be one-on-one or in a small group. Applicants are usually provided with information about the school's interviewing process before the interview. Most students will be taken on school tours, meet with current students, and discuss financial costs with an advisor.

For assistance in preparing for the interviewing process, please contact the Pre-Health Advisor or the Career Services office to schedule a mock interview.

What types of extracurricular activities and work experience should I have in order to be a competitive applicant?

Community service that demonstrates a commitment to helping others and/or increasing awareness of oral health issues
Leadership positions, such as in student organizations, charity organizations, fundraiser activities, etc.
Activities that demonstrate your ability to manage multiple tasks while performing well academically
Shadowing hours with a general dentist

"Quality and persistence are far more important than quantity"

When will I find out if I am accepted into dental school?

Dental schools begin sending offers of acceptance starting December 1st. Depending on when an applicant receives their acceptance, they have between 15 and 45 days to respond. Most dental schools will require a tuition deposit to hold a position in a class.

Many dental schools develop a wait list or alternate list. On May 1, dental schools report to AADSAS the names of their confirmed acceptances and AADSAS provides each school with the names of those applicants who hold positions at more than one school. Dental schools may contact such individuals and may rescind an offer of admission if there is no resolution after 15 days.

Are there any joint degree programs provided with dentistry?

Yes, some programs will offer a joint Master's (e.g., Public Health, Business Administration) or Doctoral (Ph.D.). For more information on these degree programs, you can review the Official Guide to Dental Schools or see the Pre-Health Advisor.

Does Wright State have a pre-dental student organization?

The University is currently forming a student organization for pre-dental students. This organization will provide mentoring, educational speakers, volunteer and community service, and social activities. If you are interested in joining, please contact the Pre-Health Advisor.
---
Related Links
Official Guide to Dental Schools is published annually by the American Dental Education Association (ADEA). This resource includes program descriptions, selection criteria and statistics of admitted students for each dental school. A copy of this resource can be found at most local libraries, but can also be purchased online at www.adea.org.
ASDA news: monthly newspaper for dentists, dental students, and undergraduate pre-dent students
Mouth: quarterly journal for dental students
Getting into Dental School: ASDA's Guide for Predental Students
Guide to Postdoctoral Programs Vol. 1-3
www.ExploreHealthCareers.org Sponsored by the American Dental Education Association, it provides about all health-related occupations.
Health Professions Admissions Guide: Strategy for Success. National Association of Advisors for the Health Professions
---
Contact Information
Pre-Professional Health Program Coordinator:
Rob Cowles
cosm-prehealth@wright.edu

(937) 775-3802
References:
1. American Dental Education Association, https://www.adea.org/GoDental/Application_Prep/Preparing_for_Dental_School.aspx, Accessed February 2020