On this page:
Overview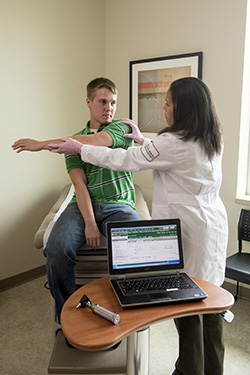 Chiropractic is a branch of the healing arts that is based on the premise that good health depends, in part, upon a normally functioning nervous system. The science of chiropractic holds as  a basic tenet that a causative factor in many disease processes is improper nerve supply to the body organs or tissues. The primary procedure in chiropractic health care is, by using natural methods, to examine and evaluate the spine and pelvis to determine if any one areaof the spine is malfunctioning or if many areas of the spine are causing abnormal body movements.
There are different areas that Chiropractors can work in. Along with general chiropractic practice, some chiropractors specialize in sports injuries, neurology, orthopedics, pediatrics, nutrition, internal disorders, or diagnostic imaging.
It is estimated, that Doctor of Chiropractic (DCs) treat about 35 million Americans annually.1
2500 Doctors of Chiropractic enter the workforce every year.2
Between 2018-2028 the field of Chiropractic Medicine is expected to grow by 7%3
Median salary in 2018 was between $71,410 (depending on client base)3
The large aging population is expected to boost the need for chiropractic care
Career Options
General Practice  
Chiropractic Radiologist  
Nutritional Specialist
Sports Chiropractor
Personal/Occupational Injury Specialist
Chiropractic Pediatrician
Teacher
Research
---
How to Become a Chiropractor
To become a Chiropractor one must receive their Doctorate of Chiropractic (D.C.) and a state licensure. Before students can obtain their D.C., they must have at least 90 undergraduate hours in areas such as liberal arts, physics, chemistry, and biology; which is why many students receive a Bachelor's degree before going to chiropractic school.
Four years of graduate work at a nationally accredited college are required to earn a D.C. There are 19 accredited institutions throughout the United States. These programs admit approximately 2,500 students each year. Subjects studied are similar to those of medical schools. Applicants to a Chiropractic College must meet the same admission requirements as most Medical Schools.  However, the GPA required is considerably lower, averaging 3.0 for most colleges.
To receive your D.C. one must complete a minimum of 8 semesters or no less than 4,200 credit hours at an accredited School of Chiropractic's. 
Recommended Personal Qualities
For those interested in Chiropractic medicine include: above average mental ability, the ability to manage time and work independently, strong desire to serve the sick, ability to maintain high ethical and professional standards, tact, adaptability, ability to inspire confidence and respect, high moral character, integrity, patience, and manual skill and dexterity.
---
Core Pre-Requisites
Applicants must have 90 undergraduate hours before applying to a Chiropractic college and at least a 2.5 cumulative GPA.
48 semester hours should be in:
English Language Skills (ENG 1100 & 2100)
Psychology (PSY 1010)
Biological Sciences (BIO 1120 & 1150)
General Chemistry (CHM 1210 & 1220)
Organic Chemisty (CHM 2110 & 2120)
Physics (PHY 1110 & 2100)
Social Sciences/Humanities (15)
As well as 30 semester hours of upper division credits.
It's important to research individual chiropractic programs for specific requirements.  Contact the pre-professional health coordinator for assistance.
---
Licensure
All practicing Chiropractors must have their state licensure. The test is issued by the National Board of Chiropractic Examiners (NBCE). A growing number of states are requiring a Bachelor's degree before being able to take the licensure examination.
The examination consists of four tests:
Elective exams are also offered in physiotherapy and acupuncture.
Part 1: Basic Science Subjects
Part 2: Clinical Science Subjects
Part 3: Written Clinical Composition
Part 4: Practical Examination
---
Chiropractic Schools
Cleveland Chiropractic College, Kansas City, KS Los Angeles,CA
D'Youville College, Buffalo, NY
Life University, Marietta, GA
Life Chiropractic College, West Hayward, CA
Logan College of Chiropractic, Chesterfield, MO
Southern California University of Health Sciences, Whittier, CA
National University of Health Sciences, Lombard, IL Pinellas Park, FL New York
New York Chiropractic College, Seneca Falls, NY
Northwestern Health Sciences University, Bloomington, MN
Palmer College of Chiropractic, Davenport, IA San Jose, CA Port Orange, FL
Parker University, Dallas, TX
Sherman College of Chiropractic, Spartanburg, SC
Texas Chiropractic College, Pasadena, TX
University of Bridgeport, Bridgeport, CT
University of Western States, Portland, OR
---
Frequently Asked Questions
Do you need an undergraduate degree to be admitted into a chiropractic school?

Although the typical applicant has acquired nearly four years of pre-medical undergraduate college education, a degree is not always necessary.   Most chiropractic medicine programs require that applicants have at least 3 years of undergraduate education; others might require a bachelor's degree.

What type of courses will I need to complete to be eligible for admission into chiropractic school?

Courses in biology, inorganic chemistry, organic chemistry, physics, psychology and related labs are often required.  It's important to research the school/program of interest as each school has it's own requirements.

What major should I pursue if I'm interested in this career?

There isn't a required degree program that must be followed.  However, most pre-chiropractic medicine students pursue a degree in Biological Sciences.

What conditions do chiropractors treat?

According to the American Chiropractic Association (ACA), Doctors of Chiropractic (DCs) care for patients of all ages, with a variety of health conditions.  DCs are well known for their expertise with back pain, neck pain and headaches.  Their training in highly skilled manipulations or chiropractic adjustments allows them to perform hands-on treatment for their patient.  DCs often care for patients with a wide range of injuries and disorders of the musculoskeletal system.  DCs focus on the body structure and how it affects our overall function.  They counsel patients in diet, nutrition, exercise, health habits and occupational and lifestyle modification.  DCs do not prescribe drugs or perform surgical procedures, although they do refer patients for these services if they are medically necessary.

Do insurance plans cover chiropractic?

Yes.  Chiropractic care is included in most health insurance plans.

What type of education and training do chiropractors have?

Doctors of Chiropractic care are educated as primary-contact health care providers, with an emphasis on diagnosis and treatment of conditions related to the musculoskeletal system and the nerves that supply them.  Four to five years of professional study are the standard and include education in orthopedics, neurology, physiology, human anatomy, clinical diagnosis, imaging, exercise, nutrition and rehabilitation.  In addition, highly skilled manipulation (or adjusting techniques) is taught.

Are there any Chiropractic Colleges in Ohio?

No, Ohio does not have a Chiropractic Medical College.  There are currently 21 accredited institutions in the United States and Canada affiliated with the Association of Chiropractic Colleges. 

For a full list of member institutions: http://www.chirocolleges.org/members.html

What is the average salary of a Chiropractor?
---
Related Links
---
Contact Information
Pre-Professional Health Program Coordinator:
Rob Cowles
(937) 775-3802
References:
1. 2016 Gallup-Palmer College of Chiropractic Annual Report: Americans' Perceptions of Chiropractic.
2. Association of Chiropractic Colleges, www.acc.org. Accessed March 2019.
3. Occupational Outlook Handbook, U.S. Bureau of Labor Statitis, https://www.bls.gov/ooh/healthcare/chiropractors.htm. Accessed February 2020.