On this page:
Chemistry Demonstration Shows
Professors Emerti Rubin Battino and John J. Fortman have been providing chemistry demonstration shows for middle and high school students for approximately thirty-five years. The show runs ninety minutes, contains over forty demonstrations, and has been watched live by perhaps as many as 250,000 students. Annually these professors work their "Magic" to show students, "If it isn't chemical, it isn't anything." Joining the demonstrations the last few years has been Kirby Underwood, Freshman Laboratory Director for the Department of Chemistry. Details regarding future shows will provided when available.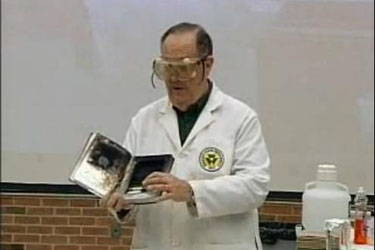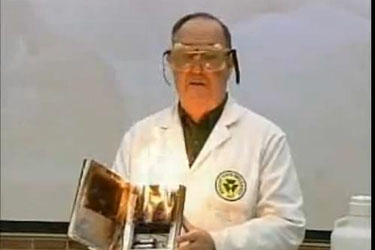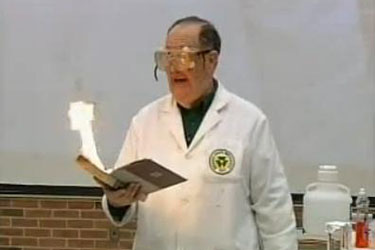 Reservations
Reservations are required. Each show is limited to 425 attendees in the Medical Science Building and 350 attendees in Oelman Hall.
Food Service
Due to Greene Country Health Codes, no outside food can be distributed or consumed in university eating areas. If you would like to purchase food from campus establishments, please contact the Union Market at (937) 775-5633 to make arrangements. This will ensure that sufficient food stock is available. Visit the Hospitality Services website for food service hours on the dates of the shows.
---
Previous Shows
To view a previous show, go to Wright State's streaming videos. Click on 'Highlights" under the Categories tab. The Chemistry Demonstration Show will appear in the list. Click on the show and enjoy the presentation.
Department of Chemistry - STEM (Science, Technology, Engineering and Mathematics) Event with Middle School Students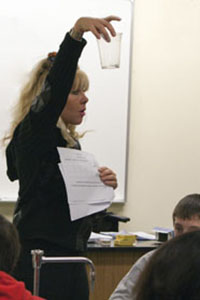 Dr. Suzanne Lunsford leads a group of middle school students through two tasks: solving a crime scene investigation and creating a simple polymer using safe common household items. This program allows students to perform science experiments without the need for safety goggles and gloves.