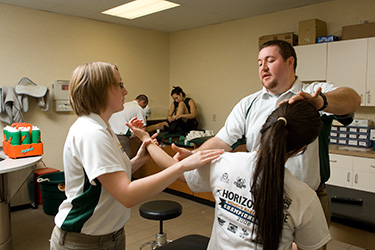 Physical therapy involves using physical methods (e.g., manipulation, traction, massage, exercise, etc.) to assess, diagnose, and treat injury, disability or disease. The physical therapist works with patients to help improve their strength and mobility, relieve pain, and prevent or limit permanent physical impairment. They are experts of movement and function of the body and perform testing of muscle function, strength, joint flexibility, balance and coordination, posture, motor function, quality of life, and activities of daily living. After examination, physical therapists will design a health plan that involves short and long-term functional goals that will improve the patient's well-being. Physical therapists work in a variety of settings, including hospitals, clinics, and private practice and may specialize in areas such as sports medicine, orthopedics, neurologic rehabilitation, pediatrics, cardiopulmonary rehabilitation, women's health, and geriatrics. Additional areas of focused clinical practice include acute care, education and clinical education, health policy and administration, oncology, and research.
Physical Therapy Fast Facts Printable (PDF)
For more information on Physical Therapy check out this APTA Presentation
Choosing Physical Therapy as a Career
With the increasing demands of physical therapists, individuals interested in pursuing this health profession must be independent thinkers with high-level problem-solving skills. Recently, this health profession has transitioned from a master's level education to a doctoral level. It is anticipated that by 2010, 99% of the physical therapy programs will be accredited to award the professional Doctoral of Physical Therapy (DPT) degree.
Students interested in pursuing physical therapy as a career should possess attributes that include excellent interpersonal, communication, problem solving, critical thinking and leadership skills. Students should also be comfortable working with individuals of all ages and have a sincere interest in improving the health and wellness of patients. With today's population living longer and remaining active later in life, physical therapists are in a dire demand. There are many reasons students choose physical therapy as a career:
Excellent income: the median salary of physical therapists in private practice is $82,390 (www.apta.org) depending on position, years of experience, degree of education, geographic location, and practice setting. Some make over $100,000 (www.explorehealthcareers.org)
Satisfying professional career: many physical therapists enjoy the independence and autonomy of owning their own practice and the flexibility of determining their practice hours (thus allowing more time for personal life)
Career outlook is excellent: new physical therapists are needed in private practice and as teachers in academic settings. Because of our aging population, opportunities for physical therapists specializing in geriatrics are abundant.
Full-time/part-time flexibility: many physical therapists work part-time, making it easier to balance a career with family life
Best employment rates: with just a 0.2% unemployment rate, physical therapists are now experiencing some of the best employment conditions
Statistics
More than 150,000 physical therapists are licensed in the United States today. All physical therapists must receive a graduate degree from an accredited physical therapy program before taking a national licensure examination that allows them to practice. State licensure is required in each state in which a physical therapist practices.
Nearly 80% of active physical therapists practice in (1) outpatient clinics or offices, (2) inpatient rehabilitation facilities, (3) skilled nursing, extended care, or subacute facilities, (4) homes, (5) education or research centers, (6) schools, (7) hospices, (8) industrial, workplace, or other occupational environments, or (9) fitness centers and sports training facilities. Most other physical therapists work in hospital settings.
As of 2016, all entry-level PT programs will be required to award the Doctorate of Physical Therapy (DPT) degree. As of 2015 there are 206 DPT programs in the U.S. Ohio has a variety of DPT programs throughout the state, of which include: The Ohio State University, University of Dayton, Ohio University, University of Cincinnati, College of Mount St. Joseph, University of Toledo, Cleveland State University, University of Findlay, Walsh University, and Youngstown State University.
For more information on physical therapy school admission statistics, please visit the American Physical Therapy Association website.