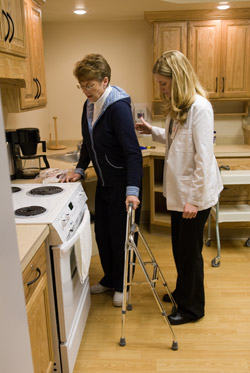 The occupational therapist (OT) helps patients improve their ability to perform everyday tasks in their lives and in the workplace. OTs work with a variety of individuals, including those with mental, physical, developmental or emotional disabilities.They help clients with basic motor functions to improve their skills and also help them compensate for permanent loss of function. The OT's goal is to assist and educate their clients so that they can have independent, productive and satisfying lives. OTs must have patience and strong interpersonal skills to inspire trust and respect as patient improvement is not always immediate. Ingenuity and imagination in adapting activities to individual needs is crucial.
Occupational Therapy Fast Facts Printable (PDF)
Choosing a Career in Occupational Therapy
OT is a dynamic and progressive profession with continued advances in innovative practice, education, lifelong learning and public advocacy.  Currently, individuals can practice as an occupational therapist with either a master's degree or a doctoral degree. As of 2016 there are 164 masters degree programs and 7 doctoral degree-granting programs in the U.S. In Ohio there are currently 5 Masters of Occupational Therapy (MOT) degree granting accredited programs and 1 Occupational Therapy Doctorate (OTD) granting program. These programs are 2-3 years in length. OTs work in a variety of settings including schools, hospitals, nursing care facilities and private practice offices. Advancement is possible if the OT specializes in a clinical area and gains expertise in treating a certain type of patient or ailment.Occupational therapists can find employment in various types of settings.  OTs can work in hospitals, offices of health practitioners, public and private schools, nursing care facilities, home health care services, outpatient care centers, community care centers and government agencies.  A small number of OTs are self-employed in private practice.
Wright State University offers the courses necessary to meet the requirements for entry to OT programs. In addition, most courses are offered two or three times per year. A pre-professional advisor is also available to assist students with program variations, information on the application process, and current trends within the profession. There are many undergraduate fields of study that will prepare students for the PT graduate programs. Among the most common at WSU are Biology, Athletic Training, and Psychology. Ohio has a variety of OT programs throughout the state. Requirements needed for admission into these programs vary and students should meet with the professional advisor to review prerequisites for each school. 
In addition to the pre-requisites, students will likely need to complete a standardized test assessing communication and reasoning skills (GRE); gain exposure to a variety of OT experiences; have their personal and interpersonal attributes evaluated (interview, references); maintain GPAs (cumulative, science and non-science) above a 3.0. Applicants offered admission typically average a GPA over a 3.0.
Statistics
In 2014, the median annual wage for OTs was $78,810 with the highest 10% earning over $112,950.
Employment of OTs is expected to increase by 27% between 2014 and 2024, which is much faster than average.  The demand for OTs will increase in both elderly populations and individuals with disabilities. Over 70% of the programs reported that all graduates seeking employment were employed within 3 months of graduation. The remaining 30% of programs reported that graduates were employed within 6 months. In some regions the majority of programs reported that graduates were employed at the time of graduation.
As of April 2010, there were 371 entry-level, educational programs:
4 accredited doctoral entry-level occupational therapy (OT) programs
144 accredited master's entry-level occupational therapy (OT) programs
151 accredited associate occupational therapy assistant (OTA) programs
71 developing or applicant programs (7 doctorate, 9 master's & 55 associate) 
In 2011 there were 97 doctoral graduates, 4,789 master's graduates and 3, 678 OTA graduates.
The total number of Master's applicants in 2011 was 23,044; 317 Doctoral applicants.