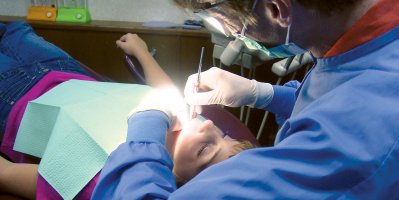 Dentistry is a profession that combines science and technology with helping people to enhance and maintain their oral health. Dentists are responsible for diagnosing, treating, and helping with the prevention of diseases, injuries and malformations of the teeth and mouth. They improve a patient's appearance by cosmetic and surgical procedures, educating the patient on oral care, teaching and training future dentists, and performing research directed to developing new treatment methods and improving oral health.
Pre-Dentistry Fast Facts  Printable (PDF)
Choosing Dentistry as a Career
Seventy-five percent of individuals who choose to attend dental school either do so during or after college. Only a quarter of graduating dental students indicate that they intended on pursuing a career in dentistry before they actually entered college.
There are many reasons students choose dentistry as a career:
Excellent income: the mean annual net income of general dentists in private practice is more than $185,000 and over $315,000 for specialists
Satisfying professional career: many dentists enjoy the independence and autonomy of owning their own practice and the flexibility of determining their practice hours (thus allowing more time for personal life)
Dentistry is viewed by the public as one of the most trusted and ethical professions in the U.S.
Career outlook is good. New dentists are needed in private practice, as teachers and researchers in public health.
The dental profession seeks to increase the number of underrepresented. Currently, only 16% of all professionally active U.S. dentists are female, with more women entering dental school than ever. In addition, approximately 7% of all professionally active U.S. dentists are underrepresented minorities.
Statistics
To date, there are currently 175,000 practicing dentists. Most active dentists (92%) are general practitioners, while others are recognized as specialists in one of nine areas: (1) orthodontics and dentofacial orthopedics; (2) oral and maxillofacial surgery; (3) endodontics; (4) periodontics; (5) pediatric dentistry; (6) prosthodontics; (7) oral and maxillofacial pathology; (8) dental public health; (9) oral and maxillofacial radiology.
The majority of dentists work in an office setting either in solo practice or with a team of dentists. After receiving a doctoral degree in dentistry, either a Doctor of Dental Surgery (D.D.S.) or a Doctor of Dental Medicine (D.M.D.), a dentist generally enters private practice immediately.
As of 2013, there are 65 accredited U.S. dental schools and 10 Canadian dental schools. Several additional dental schools are currently being developed and anticipate accepting students in the 2008 or 2009 entering classes. Ohio has two dental schools: The Ohio State University and Case Western Reserve University. 
2012 Entering Class Applicants & Enrollees 
|   | Total | Men | Women | Unknown Gender | Avg. Science DAT | Avg. Perceptual DAT  | Avg.  DAT | Avg. Science GPA | Avg. Total GPA |
| --- | --- | --- | --- | --- | --- | --- | --- | --- | --- |
| Applicants | 12,077 | 51.0% | 47.8% | 1.2% | 18.5 | 19.3 | 18.7 | 3.24 | 3.36 |
| Enrollees | 5,483 | 52.3% | 47.0% | 0.7% | 19.8 | 20.1 | 19.9 | 3.47 | 3.55 |
For more information on dental school admission statistics, please visit the ADEA website.